A House with an Earthen Floor as a Pathway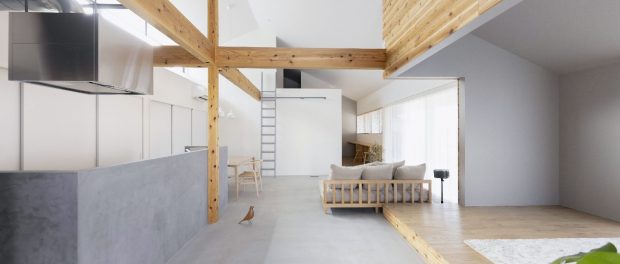 This project involved the demolition of an old house and the construction of a new one on a 530m2 plot of land surrounded by other old houses in the city of Yasu, Shiga Prefecture.
The south and east sides of the site are lined with existing private houses, and on the west side is a vacant lot also owned by the owner — and next to that is another vacant lot with a different owner. It is unlikely that houses will be built in these vacant lots since both of them are not facing the road.
For this reason, we have decided to plan a house that opens to the west.
The client has a hobby of riding motorcycles, and thus he wanted to have a section of earthen floor inside of the house.
We thought it might be ideal to create an open space with an earthen floor from the entrance all the way to the west side of the house.
The idea is centered around the concept of an earthen space that could be passed through. Around the space, storage and living spaces are arranged, adding the feeling of being both inside and outside.
Taking advantage of the large plot, the house is designed with only a single story. It is planned in a manner that brings in light through the atrium from the east side.
The west side of the house is designed with large eaves to protect the house from the western sun and to create a space under the eaves to connect the inside and outside.
The deeper you go into the building, the more private the space becomes.
The earthen floor that starts from the entrance on the north side to the open site on the west side naturally invites visitors to the open site.
The space opens up around the earthen floor, which makes people feel the connection with the outside and feel enriched.
Other images can be seen in the gallery down below

Project Title: Yoshikawa House
Location: Yasu, Shiga Japan
Designer/Artist: ALTS DESIGN OFFICE
Creative Director: Design Director: Art Director: ALTS DESIGN OFFICE: Sumiou Mizumoto
Client: private person
Photographer: ITP project
Year:2021/12
Others:
Wooden two-storied building
The lot area: 530.34㎡
Floor space: 111.17㎡
1floor area:102.07㎡
The total floor area: 102.07㎡
ALTS DESIGN OFFICE
Sumiou Mizumoto
〒520-3037
Kitanakakoji 340-5, Ritto, Shiga Japan
mail: mizumoto@alts-design.com