A Slice of The Earth Adorning Your Space: From Quarry Into Your Homes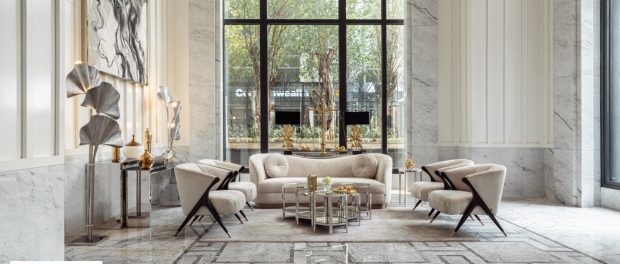 One of the best things about natural stone is that they come straight from the earth. These natural materials are taken from the ground and then crafted into something that looks amazing in your home. We tout that, no two natural slabs, their final products that goes into your floor, kitchen countertops, or walls are identical. But, have you ever wondered how this process works?
We'll take you through this process to help you understand how marble and granite and other types of stone go from the earth to your living space.
How is Marble Mined?
Mining marble from a quarry involves creating a bench wall, which requires synthetic diamond wire and diamond-tipped drills to separate the rock to form a vertical plane. This involves drilling holes in the marble from the top of the quarry and lining up another drill hole from the side. The marble is fed through these holes and connected to a machine that keeps tension on the wire as it slices through the marble. In certain cases, particularly when quarries are located inside mountains, a chainsaw-like mechanism is used.
After the marble has. been mined, it will be sent to a stone cutting facility to be transformed into slabs. Technicians then use Gangsaw to cute the marble and then into the polishing line. After polishing, only a marginal amount of the surface will feature the resin coating, maintaining the purity and breathtaking beauty of the finished stone.
Some of the most notable quarries are in Italy, Turkey, Spain, India, China, and also Indonesia, although marble can be found across the world. In fact, most marbles are named from the quarry where they were found the first time — such as Carrara .
About Prima Sejati Makmur (PRISMA)
Prisma has been leading in supplying and installing natural stones for more than 20 years. Our team have been specializing in getting the best quality for every projects.
As our team grew, we can confidently handle multiple projects at once, with quality as our top priority. All of the marbles that we choose are all hand selected by our team that travels around the globe to each location for inspection one by one.
We have been renowned for our quality fine stones with excellence craftsmanship and service as our core value. Prisma always commit to give the best service and team, also customer satisfaction as our main goal. We work closely with our clientele, so we can understand make sure to always fulfil their specification. We have been trusted to handle noble projects with well-known property developers, contractors, and consultants.
https://www.primasejati.co.id/