ARCH:ID 2022 'Sebentang – Serentang – Segendang': Diversity of Architectural Practices and Products in Indonesia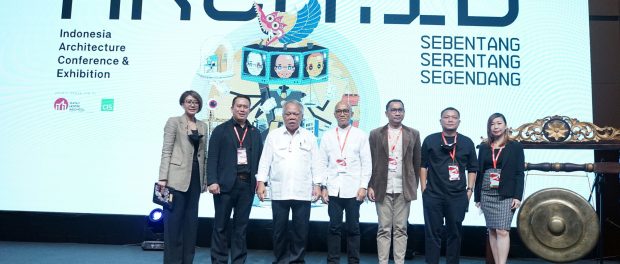 Jakarta, 07/14/2022 – ARCH:ID Architecture Conference and Exhibition was officially held on Thursday (07/14/2022) at ICE BSD City, Tangerang, opened by the Minister of PUPR RI, Mr. Dr. Ir. H. Mochamad Basoeki Hadimoeljono, M.Sc., Ph.D. As the most anticipated architectural festival in Indonesia, this event will last until July 17, 2022.
ARCH:ID is an annual event organized by the Indonesian Architects Association (IAI) in strategic partnership with PT Citra Innovation Strategies (CIS) Exhibition. This year, Sebentang, Serentang, Segendang are the themes that reflect the diversity of architectural practices and products in Indonesia. This theme is the result of the thinking of 3 curators who are well-known architects from various regions, namely Ary Indra from Salatiga, Ramadhoni Dwipayana from Medan, and Hermawan Dasmanto from Surabaya.
"The theme this time, Sebentang – Serentang – Segendang, is to celebrate the differences and diversity of architectural practices in Indonesia. Several regions in Indonesia have the potential to be displayed. For this reason, ARCH:ID will present the West (Medan) and East (Makassar) Indonesian Pavilions so that the event is not centralized in Jakarta," said Hermawan Dasmanto, Curator of ARCH:ID 2022.
INTERNATIONAL CONFERENCE
The ARCH:ID conference will be held for 2 days, 14 – 15 July 2022. Presenting local and international speakers, including:
1. Masahiro Kinoshita (Japan)
2. Pitupong Chaowakul (Thailand)
3. Damith Premathilake (Sri Lanka)
4. Liu Yichun (China)
5. Setiadi Sopandi (Jakarta)
6. Gregory Supie Yolodi & Maria Rosantina (Jakarta)
7. I Ketut Dirgantara (Bali)
8. Franky Parulian Simanjuntak (Medan)
9. Muhammad Ikhsan Hamiru (Makassar)
"The ARCH:ID 2022 conference is unique and interesting. We often attend an event because the speaker is Starchitect (a very famous architect), but what we are offering now is a narrative, by following the entire series of conference sessions, participants can conclude the form of diversity in architectural practice from what the speakers said," said Hermawan Dasmanto, curator of ARCH:ID 2022.
COLLABORATIVE EXHIBITION WITH ARCHITECTS
The next main activity is a curated exhibition. The exhibitors (brands) were encouraged by the curator to collaborate with architects to design their booths and display product designs in different ways so that they would create a different atmosphere from similar activities. The exhibition layout is distinctive. The height of the booth creates a skyline and an architectural ambiance that is rich with design.
In 2022, ARCH:ID will showcase architectural products and building materials from more than 150 brands. The Featured Exhibition, which is one of the signatures of ARCH:ID, will feature architectural works designed by architects and installations that will be displayed:
1. Gate ARCH:ID 2022 "Together in Togetherness": designed by Imron Yusuf (IFD Architects)
2. IAI Awards & 4 Nations Book "Incubator": designed by Budi Pradono (Budi Pradono Architects)
3. IAWR (Indonesian Architecture Week) – Rio: designed by Dedi Wahyudi (LABO)
4. ARCH:ID Sustainable Construction Material Awards 2022: designed by IAI National Committee, Media, Publication, and Partnership Agency
5. Student Best Final Project designed by Tatyana Kusumo and Trianzani Sulshi (Studio Aliri)
6. Health x Architecture: How Architecture Combats Diseases, designed by YAHINTARA in collaboration with IAI
7. Sekala and Niskala : designed by IAI Bali
8. Transient Placemaker: designed by I Ketut Dirgantara (DDAP Architect)
The installation Wonders Of Weaving "Urban Wonders" is in the exhibition area—a collaboration with well-known architects, such as:
1. Andra Matin
2. "Re-thinking Coffee Shop" designed by Bitte Design Studio
3. "Beringin" (ARCH:ID Square) designed by the curators of ARCH:ID 2022—Ary Indra, Hermawan Dasmanto, and Ramadhoni Dwipayana
4. "Collective Arc" (the area of POD 2 Obrolan Tuju-Tuju and Media Pavilion) designed by K-Thengono
5. "Melting Iceberg" (POD 1 Obrolan Tuju-Tuju) designed by Arkitekton
6. "A Beautiful Mess" designed by Seniman Ruang
OTHER PROGRAMS
ARCH:ID 2022 is an architectural festival with various events in one activity. Other than the main activities (conferences and exhibitions), there will be:
1. Talk Series with various topics
2. One-to-one Chat
3. The West Indonesia Pavilion (Medan) in Posbloc and the East Indonesia Pavilion (Makassar) at the Kota Tua Museum
4. BIM Masterclass
5. ARCH:ID Sustainable Construction Material Awards 2022
6. ARCH:ID Night
The implementation of ARCH:ID 2022 targets visitors from professional circles such as architects, contractors, property developers, interior designers, government institutions, distributors, agents, importers, exporters, academics and all parties in the world of architecture and design who will meet in this activity, building business relationships , networking, knowledge-sharing and taking a role to nurture architecture in Indonesia. In addition, the chains of activities is expected to form a collaboration with other fields that can intersect with architecture.
In terms of the convenience of all parties, ARCH:ID 2022 will also be held following the health protocol in accordance with government regulations. Visitors can register their presence online on the website www.arch.id