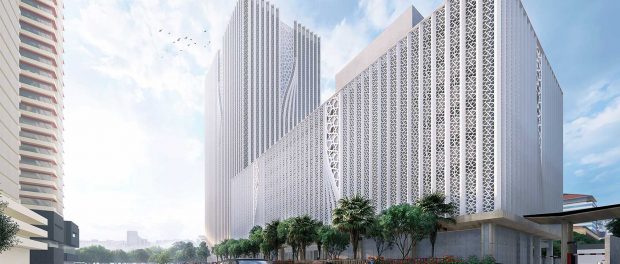 The Grade A office building, Danareksa Tower is a collaborative project between two State-Owned Enterprises (SOEs) – PT PP (Persero) Tbk and PT Danareksa. Nestled in a strategic location at the heart of the government district, the Tower boasts modern design and is equipped with complete facilities. With the experienced personnel in the building management, the tower offers beyond what you expect – a conducive workspace that is worth a lucrative investment to boost your business productivity. It's a rare opportunity, indeed.
Danareksa Tower are located on Medan Merdeka Selatan Road and KH Agus Salim Road, a strategic spot in the capital with convenient access to the city's commercial centers in Thamrin, Sudirman and Downtown. This location is also at close quarters to the city's toll roads and thoroughfares This is not to mention the convenience of reaching means of public transportation. Busway stop, MRT and Gambir train station are all within easy reach.
From four different sides of the building, Danareksa Tower takes you to pamper your eyes with the spectacular 360-degree panoramic view that includes the city's iconic National Monument and prominent skyscrapers in the triangle golden of Thamrin, Sudirman and Kuningan.
The Danareksa Tower construction project is carried out for 18 (eighteen) months with a completion target in the second quarter of 2022. Projects that have a contract value of Rp. 527 billion consisting of 9 (nine) floors of parking lots, semi-basement, 21 (twenty one) floors, and 2 (two) floors of ballroom. As of the end of December 2021, the progress of the Danareksa Tower construction project has reached 55.03%, which is faster than the target of 48.72%.
Danareksa Tower is a Grade A office located in the Medan Merdeka area, Central Jakarta, which has a strategic location and high standard building quality. The construction of the Danareksa Tower is carried out under a development scheme through the Business Cooperation Scheme ("KSU") and a joint venture ("Joint Venture/JV") between PT PP and PT Danareksa (Persero).
At the beginning of 2022, this is the right moment for the Directors and Management of PT PP to go directly to a site visit to see the quality of the work on the project. The quality of the construction of the Danareksa Tower project has been going very well. The Board of Directors and Management highly appreciate the creative ideas presented by the Project Manager and the Danareksa Tower Project Team.
These fresh ideas can be poured into lessons and improvements to be applied to other PT PP projects. The Board of Directors and all levels of PT PP Management will continue to be committed to maintaining the quality of the project work.
Project name: Danareksa Tower
Location: Jl Medan Merdeka Selatan No 14, Gambir, Jakarta Pusat
Total floors: 21
Developer: PT PP (Persero) Tbk and PT Danareksa
Main Contractor: PT PP (Persero) Tbk
Architect: PT Alien Bangun Nusantara (Alien DC)
Structural Engineering: PT Davy Sukamta & Partners
ME Engineer: PT Duta Pratama Engineering
Construction Management Consultant: PT Bina Karya
Scheduled finish: Q4 2022