EleVee Apartment Alam Sutera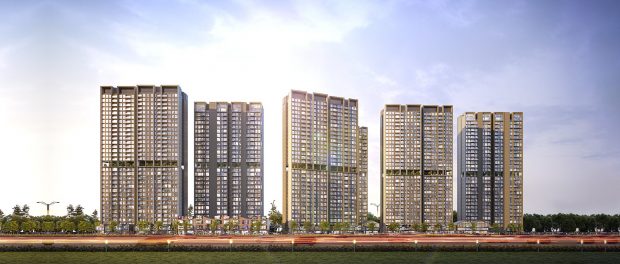 The EleVee Apartment is a 19-hectare apartment complex across the Alam Sutera Mall. Alam Sutera Realty Inc (Alam Sutera), one of the most prominent developers in Indonesia, develops the apartment complex. The apartment complex has six luxurious apartment towers and penthouses—with only ten apartment units on each floor.
Meanwhile, the rest of the area, 4-hectare, will be a city park or forest. The city forest will be an attraction or point of interest for the EleVee Apartment.
Moreover, the apartment complex has one pet-friendly apartment tower with pet yard facilities. The inhabitants can keep their pets in these apartment units, as the developer has prepared a specific area for pets.
The apartment units utilize a smart home system. It aids the inhabitants with various activities. Forty facilities will complete the EleVee Apartment: an infinity pool, a gym, a tennis court, a sky lounge, a pet yard, a water splash garden, and others. There are also a treehouse and a pool for children. EleVee Promenade will provide for the need of the inhabitants.
The EleVee Apartment provides three types of apartment units: two bedrooms (2-bed), three bedrooms (3-bed), and penthouses. Two bedrooms had a semi-gross area from 87.8 to 109.2 m2. Three bedrooms have a semi-gross area of 138 to 156 m2.
The name of the apartment complex, EleVee, is from French (élevé) and means elevated in English. Meanwhile, the apartment complex will have a total of 1,600 units. There are two phases of the development of the apartment. Phases one and two have three towers, consequently. Thus, the apartment complex will have a total of six towers.
Alam Sutera, the developer, aims to bridge the modern living and nature with the EleVee Apartment. The inhabitants can enjoy the benefits of the two worlds: living in an ecofriendly and urban ecosystem.
"We are committed to providing high-quality property for our customers. Thus, it will also increase the value of our company," said Joseph Sanusi Tjong, the President Director of Alam Sutera Realty Inc.
Project name: EleVee Apartment
Developer: PT Alam Sutera Realty Tbk
Location: Jalan Jalur Sutera Boulevard, Alam Sutera
Land area: 19 hectares
Total tower: 6 tower
Number of levels: 32 floors
Total units: 1600 units
Construction start: Q3 2022
Unit handover plan: Q3 2024
Architect: Broadway Maylan
Structure engineer: PT Haerte Widya Konsultant Engineers
Mechanical & Electrical Engineer: PT Meltech Consultindo Nusa