Fletcher Priest wins residential design competition in HafenCity, Hamburg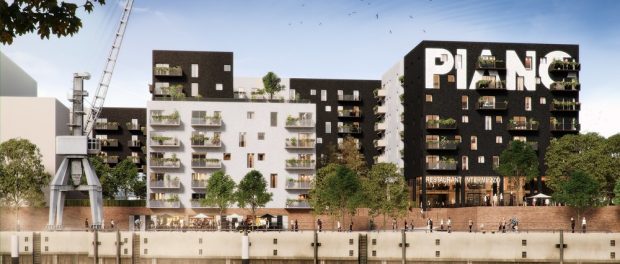 A new mixed-use development for Patrizia AG Fletcher Priest has won an invited competition of seven international architects to design a mixed-use residential development as part of HafenCity, Hamburg – considered the most ambitious inner-city development project in Europe.
Part of the wider redevelopment of the former Baakenhafen dockyard site, the 'PianoBau' building celebrates the history of piano manufacturing in the area, including the legendary Steinway and Sons.
The project comprises 140 mixed tenure residential apartments in a variety of sizes including 45 'co-living' studios, piano workshops and rehearsal spaces, a restaurant and a piano bar. Co-living, co-working and the provision of shared amenity, including terraces and a large courtyard for all residents, promote a strong residential community.
The PianoBau is located on the bank of the Baakenhafen, between Herzog & de Meuron's Elbphilharmonie and David Chipperfield's upcoming Elbtower. The project will open onto a new public square and face the award-winning "Baakenpark" across the harbour basin.
The articulation of the urban block as separate buildings creates a more human scale and is further emphasised by the black and white colour scheme. The architectural form that references the UNESCO heritage listed warehouses of Hamburg's Speicherstadt district. Vertically arranged balconies and winter gardens punctuate the alternate black or white brick façades with playfully arranged windows. A half-basement, known locally as the 'Warftgeschoss', houses a piano bar opening onto the waterside promenade, which connects the development directly to the newly opened U-Bahn station nearby.
Warm timber interiors are designed to echo the inside of a grand piano by using cross-laminated timber from sustainable sources. This improves the environmental performance of the building and enables generous floor-to-ceiling heights.
Judges included representatives of the City of Hamburg and HafenCity, the client Patrizia, local politicians and both local and international architects.
About Fletcher Priest Architects / www.fletcherpriest.com/projects/hafen…
Fletcher Priest Architects works in urban design, architecture, interior design and design research.
Recent completed projects include the predominantly residential Buckingham Green at St James's Park and Brunel Building in London's Paddington. Current projects include a new residential and research quarter for Oxford commissioned by St John's College; the redevelopment of the site behind Piccadilly Lights in London; and a major residential and retail project in Knightsbridge. Recent awards include 2019 RIBA Award for Buckingham Green, 2017 AJ Tall Building of the Year and City of London Building of the Year.