HOMEDEC Presents "Year End SALEbration"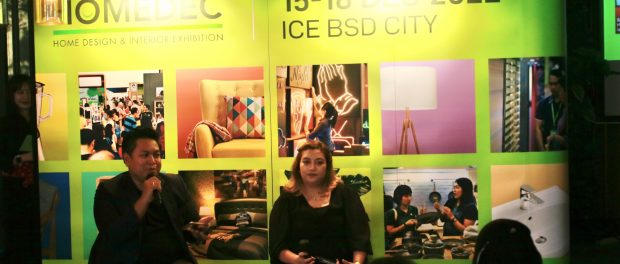 Jakarta, August 30, 2022. After being delayed several times due to the Covid-19 pandemic, HOMEDEC (Home Design & Interior Exhibition) will be held again on 15-18 December 2022 at ICE BSD City. HOMEDEC is one stop solution exhibition that provides home goods that have been held since 2015. At this event, HOMEDEC will carry the theme "Year End SALEbration (celebration)" to be a year-end shopping party euphoria and encourage interior and interior product industry, players. Housing needs to be able to increase sales in that period.
This is also supported by the resumption of the property sector after the Covid-19 pandemic began to slow down, plus the trend of property price adjustments in the second quarter of this year. Quoting from Rumah.com, the Indonesia Property Market Index noted that the price index in the second quarter of 2022 rose by 3.2% (QoQ), while the supply index rose by 1.2% (QoQ). Meanwhile, the demand index increased slightly by 2.3%. The increase in the index increased optimism not only for property market players but also a breath of fresh air for the interior product industry and home needs.
R. Arief Sofyan Rudiantoro, Director of PT CIS Exhibition as the organizer of HOMEDEC said, "This year finally HOMEDEC can be held offline. We, as organizers, hope that HOMEDEC can become a momentum for revival for interior industry players and home needs in this recovery period. The concept offered this year, namely the year-end discount party, is expected to be a forum for exhibitors/brands to conduct big promotions and discounts, as well as increase and meet sales targets at the end of the year. We will also invite bank cooperation for a 0% installment payment program and an e-wallet to support the transaction process during the exhibition."
HOMEDEC as a homeshow exhibition for home renovation, redecoration and reconditioning, this year will also present ideas, inspiration, trends and solutions to realize the needs of dream homes for homeowners. In line with HOMEDEC's mission to continue to innovate and create a quality exhibition experience for participants and visitors, HOMEDEC will be packed with various interesting content and activities such as:
• HOMEDEC Talk: Talk shows about home living such as feng shui, Korean room inspiration, home water management, smart home, gardening, and workshops/demos such as cooking demos, DIY home decoration, latte art, etc.
• Register & Win: Prize draw for visitors by simply filling in the visitor registration form.
• Spend & Win: Prize draw for visitors who make purchases at the exhibitor's booth.
• Best Deal: Massive promotions and discounts from exhibitors
• Local Product Area: Showcasing a range of products from local brands & MSMEs
• Zero Waste Campaign: A campaign to manage household waste wisely in collaboration with the community
• Kids Activities: Fun activities such as coloring, papercraft, and others in the Kids Area
It is undeniable that brands (exhibitors) and visitors miss exhibitions after the pandemic hit Indonesia in 2020. Through exhibition activities, brands can interact and make direct transactions and visitors who attend can see product demos and experience the feel & touch of their products need. This is where HOMEDEC acts as a "connecting the dots" between exhibitors, visitors, communities, and professionals through the programs presented. This year, HOMEDEC is targeting a total of 25,000 visitors for the 4-day exhibition.
To get information about HOMEDEC Indonesia, please contact at 021-83796833 or 0812-94292503 and email to info@homedec.co.id or the latest info about the HOMEDEC exhibition, please click http://homedec.co.id/
About PT Citra Inovasi Strategi Exhibition, HOMEDEC Indonesia Organizer
PT Citra Inovasi Strategi Exhibition was established to realize the client's strategic goals as well as hold innovative exhibitions. PT CIS Exhibition has the competence and knowledge to understand and meet the client's objectives, and at the same time, learn the best practices in the relevant industry to provide quality and international standard exhibitions to maximize client investment. This team is also supported by C.I.S Network Sdn Bhd as our partner, an exhibition organizer in Malaysia with more than 20 years of experience and experts in innovative exhibitions.
About HOMEDEC (Home Décor & Design Exhibition)
HOMEDEC Indonesia was first held in 2015. Positioning itself as an exhibition for home renovation, redecoration, and reconditioning. HOMEDEC meets the needs of homeowners by providing solutions, tips, trends, ideas, and home products (one-stop home solution).