Jennifer Bonner "Lean-To ADU" for City of Los Angeles' Standard Plan Pilot Project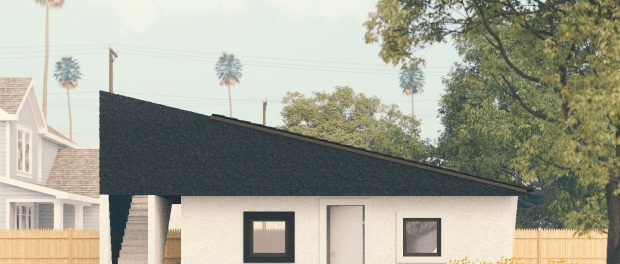 Los Angeles, CA—Commissioned by the Los Angeles ADU Standard Plan Pilot project, Jennifer Bonner/MALL has designed Lean-to ADU, a proposal to address Los Angeles' need for flexible, affordable Accessory Dwelling Units (also known as backhouses, backyard homes, and granny flats).The design references all-American utilitarian lean-to sheds, while simultaneously reinterpreting two Los Angeles architectural mainstays: the stucco box and the exaggerated false front. With this approach, Bonner extends the history of architectural experimentation via the single-family home in LA and expands on the visual language of the "accessory." MALL is one of 14 architecture firms invited by the City of LA to submit prototype designs for early approval to the pilot Standard Plan program, which offers LA homeowners a selection of pre-approved building plans for detached ADUs, to simplify the permitting process and fast-track construction to build backyard homes.
"The imagery of the lean-to shed is less LA and more Americana, but points towards the DIY spirit of the single family home," says Bonner. "The mantra, 'I can build anything in my backyard' is optimistic and connects back to the problem at hand—a lack of housing units in the metro-area. Staunchly resisting NIMBY [not in my backyard] attitudes, DIY collectivism seems like the way forward and the utilitarian lean-to shed might be the iconic hook to get it done."
At its core, Lean-to ADU offers a flexible, compact housing model that can apply to a wide range of backyard sites from flat yards to hillsides. Designed to meet Los Angeles residential building codes and achieve ample daylight and cross-ventilation no matter its orientation, the home can be rotated to accommodate diverse lots and landscapes. It is also compact with 515 square feet of living space, a 125-square-foot roof terrace, and a malleable landscaping plan that can be easily adapted. Additionally, Bonner uses easily accessible building materials—such as stucco and metal roof panels—and standard construction techniques.
This flexibility also extends to aesthetics. Lean-to ADU simultaneously draws from lean-tos, stucco boxes, bungalows, and even Cape Cods to form a hybrid visual language that complements an expansive range of LA vernacular architecture. The overall form is a textured black stucco and metal shed roof, spanning 8- to 16-feet in height, that sits neatly above a smooth white stucco box. Tucked into the roof and accessible via an outdoor stairwell, a terrace offers a space where occupants can enjoy an outdoor experience while still maintaining privacy from the front house. Beyond providing a pathway to the terrace, the exterior stairwell both activates the home's "false front" and avoids interrupting the open space of the interior shed form.
Combining elements of a pitched lean-to and the exaggerated false front of an LA dingbat, the roof volume creates a hovering form atop of the living space below. From the east and west elevations, the roof is seen as a traditional right triangle with a gentle 3:12 pitch. The south elevation, on the other hand, reveals a black rectangular panel that slips down the side of the home, resembling a suspended Richard Serra steel slab. This false front intentionally breaks up the elevational face of the shed roof by rotating the primary plane meant to hold everything together. "Think, elevation-taking-a-tumble, or better yet, John Baldessari's redaction technique," says Bonner. It also makes room for the exterior roof terrace, which tucks into the space left by the discontinuous, slipping elevation.
Materially, smooth and textured finishes—black-and-white stucco and scalloped metal roof panels—clad the exterior, while the interior offers a warm and soft material palette utilizing wood, tile, and pops of color. The front of the home (west elevation) is distinguished by a door bordered by two windows, along with the exterior stairwell, which extends upwards to the terrace. The roof bandages these two separate volumes together.
Entering the home through the front door, communal spaces (dining nook, full kitchen, and living area) are on the left side of the home, and private areas (bedroom and workspace) are on the right. A rectangular volume at the center of the plan separates these two zones and contains the bathroom and utilities. Natural light floods the interior via two skylights punched into the roof, activating the interior palette of marble, plywood, and cement tile. The kitchen features a Calacatta Viola marble slab counter with Reform "Match" cabinets in yellow, green, and white, while floors are Madera in bone and ash, ceilings are plywood, and colorful, tactile details like Patricia Urquiola basins punctuate throughout.
Throughout, windows were placed to offer cross-ventilation and several distinct, curated views of the landscape design. Both the terrace window, which provides the highest point light enters the house, as well as the bathroom skylight, are veiled with iridescent, color-shifting dichroic film. "The exterior concept consists of a stark color palette (black and white), so I was interested in bringing color into the interior," Bonner explains. As light changes across the days and seasons, the colors filtered through the film and into the home will also transform.
Landscape design conceived in collaboration with Martin Rickles Studio draws from the shapes—slipping rectangles, right triangles, and squares—that make up the home. Plant beds distinguished by wavy metal edgers take the form of these figures. Each contains a different plant that is low maintenance, native to California, will attract pollinators (butterflies, birds), has varying flowering colors and times, is drought tolerant, and filters stormwater runoff.
All of these elements come together to create an adaptable yet idiosyncratic ADU. "I like to think that Lean-to ADU would fit perfectly in the backyard of a 'white house with black trim'—yet another trend popularized through pinterest boards and home improvement shows," says Bonner. "We are indifferent to style and believe this standard plan ADU looks great behind a range of single family homes be it traditional, farmhouse, modern or tudor. And if your main house isn't 'white house, black trim' maybe it's the perfect time for a paint job."
Other images can be seen in gallery down below 
About the Los Angeles ADU Standard Plan Pilot Program:
In midst of LA's current housing crisis, ADUs have become critical to the City's ability to expand and diversify the supply of housing. The Los Angeles Department of Building and Safety's ADU Standard Plan Program is one way the City is streamlining the permitting of new, detached accessory dwelling units. The Standard Plan Program provides customers in L.A. easy access to a range of pre-approved ADUs, offering them a user-friendly process to find a design suitable for their property. All submitted ADU standard plans will then be reviewed and pre-approved by the LADBS for compliance with the Building, Residential, and Green Codes for future use when obtaining a building permit.
After a year of development (including a 7-month pilot phase), the ADU Standard Plan Program launches on Friday, March 5 to encourage the development and use of pre-approved ADU standard plans that will simplify the overall permitting process and make available a selection of pre-approved building plans for detached ADUs. The program is rolling out with 18 approved standard designs, with the intent to grow that number as more architects join the program. Currently, there are 9 firms that are fully LADBS pre-approved for launch, and five more firms with designs pending. Ten of these 14 firms are L.A-based. While the program is starting with 14 firms, all firms who meet the basic requirements can sign up to submit a design on Friday.
MALL Bio Jennifer Bonner
Born in Alabama, Jennifer Bonner founded MALL, a creative practice for art and architecture, in 2009. MALL stands for Mass Architectural Loopty Loops or Maximum Arches with Limited Liability—an acronym with built-in flexibility. By engaging "ordinary architecture" such as gable roofs and everyday materials, Bonner playfully reimagines architecture in her field.
Jennifer Bonner is Associate Professor of Architecture and Director of the Master in Architecture II Program at Harvard University Graduate School of Design. As a recipient of the Architectural League Prize for Young Architects + Designers, Emerging Voices Award (AIA/ Young Architects Forum), Progressive Architecture (P/A) Award and Next Progressives (Architect Magazine), her creative work has been published in architectural trade journals including ARCHITECT, Architectural Review, Architectural Record, Metropolis and Wallpaper, as well as more experimental publications including a+t, DAMN, ART PAPERS, PLAT, Offramp, and MAS Context. She is the author of A Guide to the Dirty South: Atlanta and a recent guest editor for ART PAPERS. Bonner has exhibited work at the Royal Institute of British Architects, National Building Museum, WUHO gallery, HistoryMIAMI, Yve YANG gallery, pinkcomma gallery, Istanbul Modern Museum, Boston's Rose Kennedy Greenway, and the Chicago Architecture Biennial.