Loqui, Handcrafted Taqueria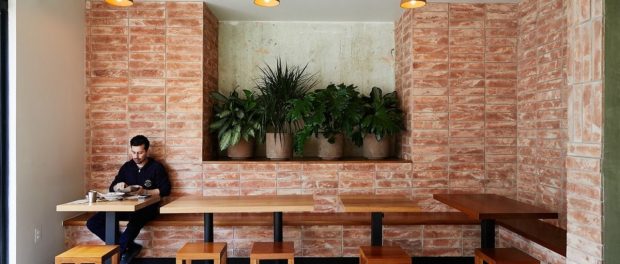 Taqueria Autentica – Designing a slice of Baja in the heart of Los Angeles
Los Angeles, United States. Wick Architecture & Design, in partnership with LAND Design Studio, is proud to unveil the authentic Baja ambiance of Loqui, a 1,346 s.f.  restaurant located in the Art District near downtown Los Angeles. Evocative of a handcrafted Mexican taqueria, the new restaurant is the second Loquia location in the Los Angeles area and the first to carry the newly branded aesthetic image of the family-owned business.
"The first location in Culver City has always been a very 'mom and pop' style space, so the owners approached us about designing a second location that would be more forward in terms of executing a concept," says David Wick, principal and lead designer of Wick Architecture & Design. "The original location has earned a lot of street credit, but the new location captures the essence of the business and provides Loqui with an aesthetic branding."
A blank canvas 
Situated in a gentrified industrial area of the city, the new Loqui space occupies a portion of the ground floor of an old four-storey concrete building that has been converted for office space, restaurants, and bars. With Loqui as the first tenant, the building provided Wick and Lindley with a blank canvas to work with. The designers inherited concrete floors and ceilings, as well as exposed pipes housing vertical plumbing and mechanical systems for the entire building. They went to great lengths to clean up any unsightly aesthetics by removing some redundant components and strategically erecting walls to conceal others, while maintaining some of the original elements, including the concrete floor, that appears organized and purposeful.
With an outer shell carefully carved out, the design team embarked on a plan to replicate some of the materials and visual elements of a typical handcrafted Mexican structure. The focus was on building something rustic that wasn't 'overthought or overwrought', resulting in material selections that could be found on a construction site, including terracotta brick, stained oak, olive stucco, and patinated steel.
Connecting the dots 
In approaching the design and connectivity of a kitchen, a service line, a small dining room, and a patio in a recessed rear courtyard, Wick and Lindley established continuity by utilizing terracotta bricks throughout the space. Simple vertical and horizontal Cartesian patterns, with periodic embossed bricks, seamlessly wrap the walls, seating, and outdoor area in a defining and unified ambiance.
"Upon entry, the brick encapsulates three sides, including the service line and kitchen, the portal to the restrooms, and the dining area," explains Andrew Lindley, principal and lead designer of LAND Design Studio. "The abundant use of the terracotta bricks reflects our desire to use a simple material that would tie the whole space together and capture and extend the essence and mood throughout."
A softer approach
Beyond the use of terracotta, the material palette for giving the Loqui design a handcrafted look includes a restroom corridor finished in olive green stucco, as well as a kitchen backdrop featuring tiles with subtle blue trim. To bring it all to life, the design team chose FOLK Abigail small soft cone semi-flush lighting from Rejuvenation to add warmth and character to the internal space.
"One of the things that we wanted to avoid was the clinical feel that kitchen areas often project in small restaurant spaces like this," adds Lindley. "We decided to use Shadow Edge tiles from Wink Design Source, and the blue edges definitely soften the aesthetics."
SoCal appeal
Although located at the rear of the building, the outdoor patio serves as the restaurant's main entrance. That presented Wick and Lindley with the challenge of turning a back alley courtyard into an appealing gateway for Loqui, while establishing the vibe of a year-round Southern California setting. Equal in proportion to the indoor dining area, Loqui's outdoor space is an extension of the interior, with a natural flow and continuity courtesy of erected terracotta brick walls that define the space. Stained oak panelling frames the building façade, while black painted patina metal, with natural texturing, forms edges around the terracotta barrier walls.
Finally, Wick and Lindley brought in landscapers to provide the courtyard space with an abundance of neatly groomed cacti and other vegetation in order to complete the authentic Baja look and feel.
"Every project for us begins with sitting down with the client to discuss their needs, and then proposing visually stunning solutions that will help them to achieve their goals," explains David Wick. "We adapt every project to the challenges at hand, and Loqui is a perfect example of our versatile creativity."
Technical sheet
Client: Loqui
Project: Loqui
Location: 810 East 3rd Street Unit 150, Los Angeles, CA. 90013
Size: 2,040 square feet consisting of a 1,346 square foot restaurant with a 694 square foot patio.
Project team
Design: Wick Architect and Design in collaboration with Land Design Studio General Contractor: Analog
Structural Engineers: Plump Engineering
Mechanical and Plumbing
Engineers: Engineered Solutions Electrical Engineer: A+F Engineering Tile: Wink Design Source
Terracotta Brick: Arto
Photo credit: Nicole LaMotte
About Wick Architecture and Design
David Wick is a principal, architect, and lead designer with Wick Architecture & Design, a Los Angeles-based firm committed to commercial and residential sustainable design and construction. Blending nature with the built environment, the firm has designed and completed a multitude of residential and commercial projects including a 'Build It Green' and Energy Star certified home in Sherman Oaks, showrooms for Bisazza, Richard Mille, Hublot, Westime, Joe's Jeans and Max Studio, and restaurants including Mexicano, Independence, Eagle Rock Public House, Shophouse, Chipotle, Lemonade, Compania, and Church and State. The firm is also experienced with large-scale and intimately-sized residential new construction, remodels, and additions throughout the United States. David Wick has been LEED certified since 2006, and Build It Green certified since 2008.
For more information on Wick Architecture & Design, visit https://www.wickarch.com/.
About LAND Design Studio
After earning a B.Arch in Architecture from the University of Oregon in 1993, Andrew Lindley worked for George Yu Architects, overseeing the design and project management of the firm's Maxstudio account. In 2005, Lindley founded LAND Design Studio as a vehicle for pursuing his interests in commercial design and prototyping of retail spaces, as well as the brand rollout of those concepts. Since its founding, the firm's specializations have grown to include retail, restaurant, commercial, and shell & core design.