Montalba Architects Unveils New Hospitality Projects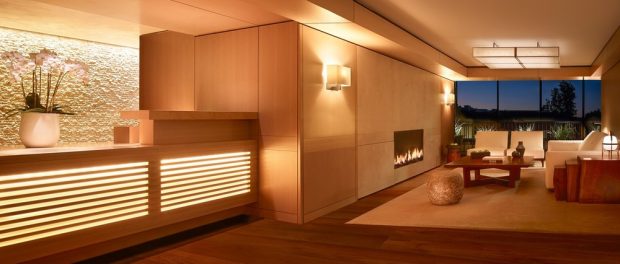 Montalba Architects has built a reputation as the architect and designer of choice for discerning luxury purveyors and forward-thinking boutique brands seeking serenely modern, effortlessly inventive and striking buildings and spaces. With its recent projects for the global hospitality and restaurant collection, Nobu, Rustic Canyon Restaurant Group, and eco-luxury hotelier White Pod Resorts SA, the international practice – whose studios are located in Los Angeles, California and Lausanne, Switzerland – is defining modern hospitality.
"We work with clients whose ethoses align with ours," says founder David Montalba, FAIA, SIA, who was the design architect for the Tom Bradley International Terminal (TBIT)/Bradley West Interiors and Terminal 6 at Los Angeles International Airport.
"Hospitality projects are a natural evolution from our residential work in that our design values are perfectly aligned with the care and attention required by our clients' brands."
Montalba adds, "As architects and designers, we help our clients manifest their storytelling by defining the destination. In the process, we contribute to shaping a locale, by adding a thoughtfully considered layer to its urban design fabric."
For Nuno Ravara, who heads Montalba Architects' Lausanne studio, the work is about scaling the human experience. As he notes, "Whether our commission is an urban oasis, a destination hotel or a high-energy dining environment, we approach our work from the standpoint of not only creating sublimely simple backdrops for human activities but also providing the intangible – a sense of wellness, connectedness and completeness of experience."
The firm's most recent hospitality projects include:
Nobu Hotel Palo Alto, CA – This boutique property brings Nobu's design DNA of modern luxury, infused with Montalba Architects' effortlessly chic aesthetic, to the heart of Silicon Valley. Set to be fully operational in 2020 in a fully renovated, ±50,000 sf (4,645 m2), 8-story building in downtown Palo Alto, Nobu Palo Alto Hotel features 73 guest rooms, including 17 suites (between the 7th and 8th floors) and honors the traditional Japanese Ryokan offering freestanding teak soaking tubs and slatted wall paneling. The recently-opened, signature restaurant, featuring a wood-slated ceiling and wood-paneled walls punctuated by Japanese lantern-evoking elements, engages with its surroundings with an outdoor dining area defined by sculptural plantings.
Birdie G's, CA – Located in Santa Monica's historic Bergamot Station campus, and housed within the former Santa Monica Museum of Art space, this highly-anticipated neighborhood restaurant from Rustic Canyon Family in partnership with James Beard-nominated chef and owner Jeremy Fox juxtaposes the inherent rawness of the 5,000 sf (465 m2), steel-beamed industrial shell with delicate details and a warm materials palette of Walnut wood, brass and hues of blue.
Whitepod Hotel, Switzerland – Eighteen individual Pod suites comprise the Whitepod eco-resort, located in the Swiss Alps.Each geodesic dome features prefabricated elements, such as a platform, dome and bathbox. Inside, curved wooden walls delineate the recessed sleeping area surrounded by a tatami mat from the raised bath area.  Pod Suitefeatures in an exhibition of short-listed international projects for the World Interiors News Awards 2019 on October 24 in London, UK.
About Montalba Architects
(montalbaarchitects.com @montalba_architects)
We are an award-winning practice, producing select architecture and urban design projects. By embracing a humanistic approach that considers not only a client's needs and site considerations, but also the cultural and economic environment, solutions are realized that are contextual, yet conceptual and visionary in their intent, effect, and appeal. Projects emphasize conceptual experience by creating environments that are both socially responsive and aesthetically progressive.
About David Montalba, FAIA, SIA
As Founding Principal of Montalba Architects, Inc., David Montalba, FAIA, SIA, is the driving force of leadership and design within the firm. Montalba Architects is a diverse architecture and design studio of over 50 architects and designers based in Los Angeles, California and Lausanne, Switzerland. The firm is engaged in retail, residential and other select commercial projects across the United States and abroad. Believing that architecture and one's environment can truly improve quality of life, David's approach is a humanistic one, which often leads to solutions that are discrete, contextual, yet conceptual in their intent, effect, and appeal. David's diverse background as a multi-award winning architect includes over 26 years of professional practice.
About Nuno Ravara
Nuno Ravara is Principal in Charge of Montalba Architects' Swiss studio, developing international projects. He studied architecture at the Faculdade de Arquitectura in Lisbon, Portugal, at the Milan Polytechnic in Italy, and at the Southern California Institute of Architecture (SCI-Arc) where he received a Master in Architecture with Distinction. Prior to joining MA, he worked as an Associate at Herzog & de Meuron for 16 years after having collaborated in several other architecture offices and establishing his own practice between 1996 and 2000. He has worked on several projects and competitions varying in size and complexity in Portugal, Spain, Germany, Qatar and Switzerland and has participated in exhibitions, publications and juries.