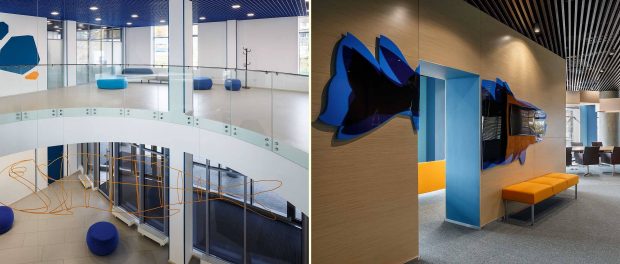 Our main goal was to create a cost effective and attractive interior solution for Norebo fishing company based in Kamchatka. In this interior, we also strived to reflect the elements of the company's corporate style, highlight the specific features of their professional activities and take into account the dynamics of the company development in the coming years in view of a possible expansion.
The basic color palette is comprised of three colors – white, orange and deep blue, combined with light wood, concrete elements and metal, which was used to stiffen some elements of the interior.
The geometrical lines and abstract figures inspired by Kamchatka's nature reflect the main theme of the interior.
The dining area is modular and divided into groups of seats that allow increasing the number of seats in the room and keeping the pathways between the entrance to the dining room, the banquet hall and the food distribution line.
Special attention had to be paid to the accounting office, in the middle of which there were two metal columns that could not be removed. We hid them behind veneer wall panels and placed all interfloor engineering networks inside.
An individual color – light green – was chosen for the accounting office, which, in combination with geometric figures and bright accents, imparts liveliness to the room.
Floor 4 is the executive floor with a separate reception desk and a meeting area.
The executive floor called for more presentability. To do that, we widely used black color. At the same time, the space remained large, bright and spacious, thanks to the panoramic views and a large amount of glass. In the meeting room, functional corners for dividing the space into groups and one large conference table for large meetings and conferences were needed.
The central staircase serves as the main throughway of the building, connecting the halls of all four floors. The staircase flight was the most unusual space in the building. The contrasting red-colored rail system was custom-designed. The space is large and roomy due to the abundance of white color and light. The wavy pattern on the stairs adds natural accents symbolizing water and the ocean, and the red polyline railing and the geometry of the space symbolize silhouettes of cliffed mountains.
From the very start of the project, we faced several challenges, such as the lack of finishing materials in the region and budget constraints on finishing materials and furniture. So we asked ourselves: "How can we create an unusual space while making it as cost-effective as possible?" To do that, we used simple solutions, giving full play to the light, color and geometry, drawing inspiration from the wild nature of the Kamchatka region. This concept translated into the numerous geometrical figures, drawings, numbers of offices and floors, the simple and concise wire decoration in the form of fish and complex geometric shapes.
General Information
Project name: Norebo office
Architecture Firm: Attic Buro
Lead Architect: Dmitrii Malyshev
Website: www.the-kamchatka.ru
Contact e-mail: info@atticburo.ru
Completion Year: 2018
Gross Built Area: 3 500 m2
Photo credits: Ivan Sorokin