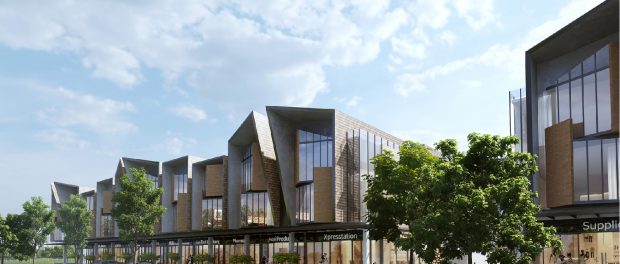 Paul Marc's shophouse is a fully-integrated development of Marc's Boulevard which is located in Batam Center, Batam. PT Perintis Triniti Properti (Triniti Property Group) is the developer of this project.
The attractive facade of the shophouse designed by OOZN Design is a charming attraction in the integrated area of Marc's Boulevard, as well as being an iconic shophouse in Batam Center when it is built.
The retail area includes 20 units of 3 story shophouses, with 2 types of building area of around 270 and 360 square meters.
Project data
Project name: Paul Marc's Shophouse
Location: Jl Sadai, Batam Center, Batam
Developer: PT Perintis Trinity Properti (Triniti Property Group)
Architect: OOZN Design
Quantity Surveyor: PT Pratama Savindo Oetama
Construction schedule: Q1 of 2022
Scheduled to finish: Q4 of 2022
Land area: ± 5.760m²
Building area: ± 270m², 360m²
Number of shophouses: 20 units
Number of levels: 3 story
Flooring: Ceramic tile, granite tile, homogenous tile
Structure: reinforced concrete
Pondation: pile system
Walling: Light brick, finishing coating, glass wall
Roofing: metal, concrete deck with insulation