Porsche China Headquarter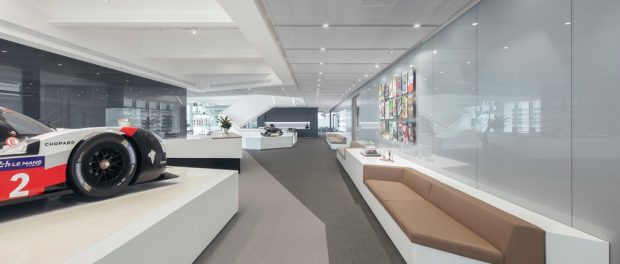 anySCALE creates progressive office space for Shanghai Porsche HQ. German sports car manufacturer Porsche tasked anySCALE with designing their new China headquarters based in Shanghai at the Lu Jia Zui Financial Plaza.
anySCALE is proud to announce the completion of Porsche HQ in Shanghai. The new office is designed with a philosophy known as S.P.A.C.E, which stands for Smart, Passionate, Attractive, Collaborative and Engaging. It combines new technology and digital upgrades with tailored services for a holistic long-term outlook aimed at realizing the full potential and creativity of Porsche China's workforce.
For Porsche's new work environment, it was essential that the themes of speed and passion speak boldly through the language of design. Long, horizontal lines with strong black and white contrast guide people through the space and support the allocation of the reception, waiting lounge and displays areas. The staircase, as a major vertical connector, links the large public areas and fosters communication among the employees. The space embraces the broad brand heritage of Porsche. A 1:1 scale model of the 919 hybrid racing car is displayed alongside a trophy wall, an engine block and a model car timeline. Large bonsai trees visualize the aspiration of luxury and give a hint of the importance of China to the brand today.
"The New Porsche Headquarters is designed as a progressive open plan office with a minimum number of private offices. In addition, there are multiple dedicated spaces to perform special tasks such as focus rooms, quiet rooms, etc," said Simon Berg, director of anySCALE in Shanghai, adding that the transition of Porsche's work environment from a traditional office concept to such an activity-based work environment required the whole project team to do a lot of educational work and persuading.
Porsche China's new office is the first-ever Porsche property worldwide to achieve the WELL Building StandardTM gold certification standard. Launched in 2014, the WELL Building StandardTM is the premier standard for buildings, interior spaces and communities seeking to implement, validate and measure features that support and advance human health and wellness. Ensuring health and satisfaction for employees is an essential component of the new office design, confirming that Porsche considers people to be the most important resource for the future success of the brand. This idea is also presented in the Porsche Strategy 2025, which declares that Porsche constantly strives to become "the most innovative and attractive employer."
"Porsche is committed to empowering employees and providing a more digital and intelligent working environment to promote the development of corporate culture and to actively face the new era of change alongside our employees," said Oliver Blume, chairman of the executive board of Porsche AG.
Technical Sheet
Completed: May 2019
Client: Porsche China
Location: Shanghai
Size: 13,000 sqm
Design team: Simon Berg, Ruby Xu, Sek Chow, Autumn Yang, Sun Yufeng
About anySCALE anyscale.cn/
During the past five years, partners Karin, Tom and Andreas have formed a strong presence in China's interior design market. anySCALE has a reputation for strong corporate identity development and has become the design face for companies such as Soho China, BMW and Daimler. The company has grown from a staff of 4 to over 40 by 2019 and expanded to three locations.
About PORSCHE HQ
Since entering the Chinese market in 2001, Porsche has been exceptional when it comes to laying foundations in terms of brand, product, the dealer network and customer service. With the steady development of Porsche China, the number of sales sites and vehicle deliveries has steadily risen over the past 18 years, as have the number of Porsche China employees – with more than 400 people employed by the end of 2018.