São João House by Mário Sampaio arquiteto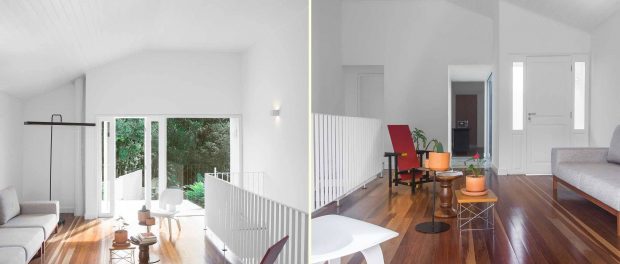 The terrain is very beautiful, quite wide and is located in a high region of the city of Curitiba where it is possible to see, to the east, much of the city while to the North has a forest where we direct the opening of the new being, a beautiful view.
The concept is quite simple, there was already a small building with about 68, 00m2, where the client residaged with his wife and who would like to do a renovation and enlargement that resulted in a final area of 228, 16m2 with the new program of needs in hands Our initial idea was to redefine the plastic part and to reorganize the existing building functionally.
Then, observing the new volume generated, still in the project, we decided to replicate it in the same proportions obtaining the second that composes the whole, objectively forming a set, purposely suppressing the idea of attachment which perfectly accommodates the Desired Supplementary Program Some openings were made at the top so we have zenith lighting in the closet, bathroom of the couple and circulation of the rooms, which leave the spaces well lit and generates good energy savings during the day.
An important fact was that we retook many of the existing elements, reformed and relocated them according to the new needs, because they were in good condition that resulted in good savings to the client, being: some wooden frames, including Internal doors, windows and doors-Venetian windows that we reuse in the double room, the access door that was installed in the new entrance, a small deck that we reuse as a terrace to be we re-use some natural elements as White asphalts that had in the old car access and that along with a large stone existing on the ground we compose the garden.
With the exception of internal balizers and those of external access that are new we reuse all the luminaires that were redistributed showed enough to illuminate the whole new house, among other things.
Data Sheet
Project name: São João House
Architect: Mário Sampaio Arquiteto
The firm creates designs for architecture, interiors, and objects, always with a focus on quality. To maintain its commitment to quality, the architect keeps a limited number of clients and only accepts comprehensive contracts that encompass the entire process from the earliest stages of creation to the final execution.
Website: www.mariosampaioarquiteto.com.br
Instagram @mariosampaio
e-mail: sampaioarquiteto@gmail.com
Location: S. João – Curitiba-Pr – Brasil
Year of conclusion of the work: 2017/2019
Total area construction : 228,16 m2
Photografer: Thiago Autran
Website photografer: http://cargocollective.com/plasticanemica
Other collaborators (engineers, clients, consultants, etc)
Ivan Shalin –Structural  Engineer
Denilson Iwaeva – Master Builder
With thanks to D. Julian e Lu
Materials used
Suvinil – White acrylic paint
Votorantim Cimentos Brasil – Votoran Cement
Isoeste – Double color white metalic tile with polyurethane layer
Deca – Bathroom fixtures and hardware
Artesian – Furniture