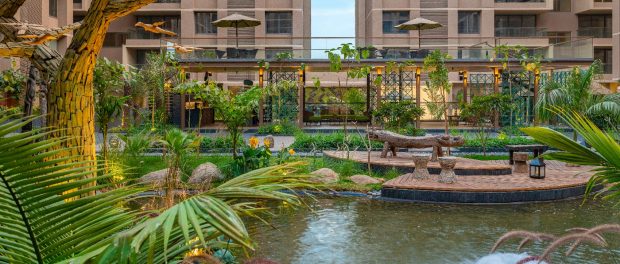 Imagine stepping out and seeing lush, colourful, exotic tropical foliage pulsing with life, and hearing the sound of water trickling. Can you already feel yourself sinking into vacation-relaxation mode?
Siddhraj Z+ is an ideal daily tropical luxurious experience to be at. It has a dreamy, resort- style retreat ambience to pull multiple outdoor spaces together for a cohesive existence. The overall idea for the design was to connect the residents with the outdoors always either, physically or visually. Wherever you are at Z+, one gets a splendid view of the outdoors and can feel rejuvenated.
The architecture of the Siddhraj Z+ is minimalistic and timeless. Z+ comprises of 7 residential blocks with dual luxurious flats on each floor. Embracing simple geometry ,yet bold parallel lines, along with  projecting balconies offering seamless views, brings out the contemporary aesthetics of the design. The façade is done in earthy tones and minimum artificial lighting to blend well along with the landscape. The vehicular access has been restricted to the outer periphery of the site whereas, a pedestrianized trail connects all the towers from the inner edge with the landscape.
As the site is in L-shaped geometry ,it  gave us an opportunity to create two central courtyards. The courtyards not only change the ambience of the place but also add on to create a micro climate within. These courtyards include various overlapping outdoor activities like congregation lawn, gazebos, kid's play area , cafeteria,  zen garden, etc. The indoor amenities are strategically planned  throughout the periphery of these courtyards, further complementing each other and enhancing the experience for the users.
Another aspect kept in consideration, was to have an element of water in various forms like ,lily pond, water feature, fish pond, swimming pool, etc, at every 50m throughout the walking trail to enhance freshness and calmness for the residents. Various features likes stone sculptures, totem poles, decorative stones lights and wooden furniture incapture the essence of Balinese style landscape.
Subtle warm colours with thematic wall cladded in local dhrangadhra stone adds a rustic texture to the interiors. A common cafeteria with green rooftop, thoughtfully placed at a focal orientation, has access to  beautiful panoramic views all around. Using a pop of green in the furniture and adding graphical tile in the flooring along with basic scheme of  teal ,wood and cane, uplifts the vibe of the cafeteria. Contemporary theatre room with neutral grey tones on walls and ceilings, fluted wooden central wall and a comfortable brown leather recliners stages a perfect plan for weekends to be with your family.
Siddhraj Z+ is indeed, a quintessential blend of subtle architecture, soothing, luxurious tropical landscape and eclectic interiors.
Other photos can be seen in gallery down below
Project: Siddhraj Z+
Location: Sargasan, Gandhinagar, India
Architect: VPA Architects
Email: vpaarchitects@gmail.com
Photos: ©VPA Architects