Living World Grand Wisata Bekasi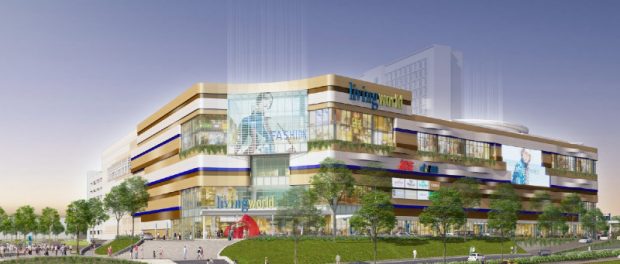 Sahabat Duta Wisata has been developing Living World in Grand Wisata Bekasi, one of the largest residential areas in Bekasi. The company is a joint venture by Kawan Lama Group and Putra Alvita Pratama, Inc (the developer of Grand Wisata Bekasi-Sinar Mas Land). Living World is one of the most popular brands of lifestyle centers in Indonesia. Sahabat Duta Wisata Inc has targeted the project to operate in the first quarter of 2024. The groundbreaking was already on September 30, 2021.
Sugiyanto Wibawa, the president director of Sahabat Duta Wisata Inc and the Business Development Director of Kawan Lama Group, stated that the development of Living World in Grand Wisata Bekasi would be in an area of 4.2 hectares. "The total area of the shopping mall and the parking area is around 155,000 square meters. The commercial area is larger than 58,000 square meters," said him in a virtual press conference on September 30, 2021.
"Living World Grand Wisata has positioned itself as a home-living lifestyle & eat-tertainment mall," said Herry Hendarta, the Director of Putra Alvita Pratama Inc and the CEO of Residential National Sinar Mas Land. Living World Grand Wisata will provide more than 328 shops. The mall will host a variety of restaurants and cafes, hence its "eat-tertainment" slogan. It will also house anchor tenants focused on the concept of flagship home living and lifestyle, such as ACE, Informa, and others.
The combination of natural elements and urban living creates a comfortable atmosphere, especially in restaurants and cafes. The eco-friendly mall will be a new trendsetter in shopping centers in Indonesia.
Living World Grand Wisata Bekasi will use a highly energy-efficient HVAC system, cutting electricity up to 25 percent. The combination of natural light and LED lightbulb usage in the mall can save up to 60 percent on electricity usage.
The lifestyle center will also recycle grey water to conserve water and accumulate less sewage waste—aiming for a zero-waste system. The recycled greywater will be for HVAC recycling and watering the 2,000-square-meter green park.
In doing so, Living World Grand Wisata Bekasi supports the government's 2030 goal to reduce the greenhouse gass emission by the minimum of 29 percent by adopting sustainable development.
Developer: Sahabat Duta Wisata Inc (Kawan Lama Group and Sinar Mas Land)
Location: Grand Wisata Bekasi
Land area: 4.2 hectares
Building area (including parking): 155.000 sqm
Commercial area: 58.000 sqm
Groundbreaking: September 30, 2021
Operational plan: Q1 2024