Altuera Apartment Southgate Residence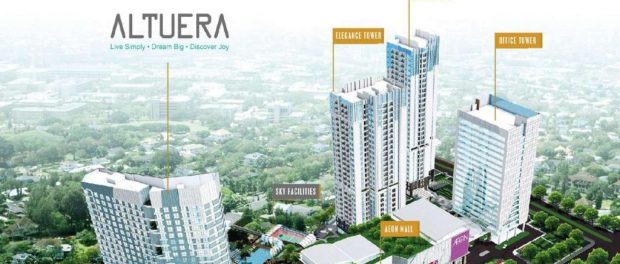 Leading developer Sinar Mas Land has developed the Altuera Apartment integrated with AEON Mall in the Southgate Residence, Tanjung Barat, South Jakarta.
The Southgate Residence stands on an area of 5.4 hectares. This mixed-use project has 60 percent green space, approximately 2.2 hectares—an integral part of the Southgate Residence development. It aims to support various communal activities, encourage interaction and physical activity outdoors, and preserve the natural environment for future generations.

Selamat & Sukses
atas Pembangunan
APARTEMEN ALTUERA TOWER SOUTHGATE
The mixed-use area of Southgate Residence has three apartment towers—Elegance, Prime, and Altuera—all connected to AEON Mall Southgate Residence.
The Altuera Apartment is the latest project at Southgate Residence. Equipped with a sky garden green space, the Altuera Apartment reflects a balanced lifestyle between urban and lush oases that offer tranquility. It strives to become the perfect place to rest from the hustle and bustle of the city.
Carrying a minimalist space design, the Altuera Apartment presents flexible spaces that can adapt to the changing needs of its residents. The apartment prioritizes aspects of function rather than unnecessary ornaments.
Southgate Residence Tanjung Barat has a strategic location in South Jakarta. This apartment complex is easily accessible from several central business districts, health facilities, education, and others.
"Southgate is on a strategic location at the side of Jalan TB Simatupang in South Jakarta and easily accessible. It is a benefit for shopping mall visitors, entrepreneurs, and all residents of the Southgate Residence apartment," Hongky J Nantung, the CEO of Commercial National, said (05/23/2022).
Various public transportation means also reach the mall. TransJakarta and the Commuter Line train are across the AEON Mall in the Southgate Residence. Moreover, the mall is close to the Jakarta Outer Ring Road (JORR) toll road that connects directly to the Jabodetabek area and the Soekarno-Hatta International airport.
Where Urban Luxury Meets Green Living
Southgate Residence combines urban luxury living with lush environments. Southgate Residence's green area covers 60 percent of its total area. This green area is an integral part of apartment development, facilitating a healthy lifestyle for its inhabitants.
There are various facilities in the green area of Southgate Residence: gardens, swimming pools, an amphitheater, barbecue patios, leisure spaces, and a sky lounge.
The Southgate Residence answers people's enthusiasm for green living concept apartments. Providing 60 percent of its total area for vegetation, The Southgate Residence facilitates a healthy, beautiful, and lush environment.
The Southgate Residence also provides an elegant residential complex in the middle of a lush area, a delight for the residents.
The Altuera Southgate Residence Apartment has several unit types, namely studio, one-bedroom, two-bedroom, two-bedroom lofts, and two-plus-bedroom units. The units start at IDR 1.2 billion. Moreover, it has an investment value that promises a high return because of its highly strategic location in South Jakarta and its premium building design.
The Altuera Southgate Residence Apartment towers the city of South Jakarta. AEON Mall is just a few steps away from the apartment complex, providing a range of goods from up-to-date clothing to fresh fruits. In addition, residents can enjoy a variety of culinary delights, from street food to restaurants, at AEON Mall.
This premium apartment houses various facilities: an indoor children's playground, a study room, a theater room, a gaming room, swimming pools, a pool bar, a yoga studio, a sky lounge, a reflecting pond, an outdoor fitness area, the AEON Mall, cafés, a health center, co-working spaces, and meeting rooms.
At the Altuera Southgate Residence Apartment, residents will enjoy premium facilities with an elegant atmosphere.
The developer entrusted the construction of the Altuera Southgate Residence Apartment to PT. Tatamulia Nusantara Indah. Meanwhile, PT. Multi Prima Integrasi, handled the procurement and installation of information technology.
Project Name: Altuera Apartment Southgate Residence
Total Floor: 23 story
Basement: 2-level-carpark
Developer: Sinar Mas Land
Location: Tanjung Barat Street, Jagakarsa, South Jakarta
Architect: PT. Airmas Asri
Interior Designer: PT. Marka Abhirama
Structural Engineer: PT. Stadin Structural Consultants
ME Engineer: PT. Metakom Chandra Pranata
Main Contractor: PT. Tatamulia Nusantara Indah
Information Technology Subcontractor: PT. Multi Prima Integrasi