Art Villas Costa Rica by Formafatal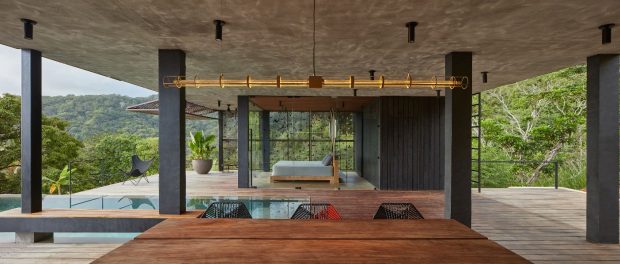 Not far from Costa Rican town Uvita – there is a hidden small resort Art Villas on the jungle hill above the beach Playa Hermosa. 3 unique villas and one multifunctional pavilion are scattered over a plot of 2 ha.
When the investor approached the architects, he wished to create a place where the visitors merge with the surrounding nature, clearing their mind, experiencing luxury and adventure at the same time. He wanted to create a place that digs deep into everyone's heart when they taste it. The architects from the Formafatal studio followed the client's assignment and were also inspired by the atmosphere and colorfulness of Central and South America.
In the lush jungle of Costa Rica is a space that transcends ordinary. Where day and night merge in a heavenly expanse of verdant flora, pristine beaches, and exquisite style. Here you'll discover three distinct villas each with their own bold and unique architecture and style.
Art Villas is inspired by the laws of the jungle. Our villas strike a rare balance between encounter with nature and protected luxury accommodation. Here creativity springs to life as you mingle with the jungle's breath, relax in comfortable, charming spaces, and surrender to your purest self.
Behold the vast, monolithic structure. Cool, concrete walls stand naked and confident inside the heart of the jungle. Expansive glass walls, jungle wood, and brave dimensions ignite, absorb, and reflect the raw elements of nature. Hand-painted walls capture the dynamic nature of water and mirror the surrounding tropical forest.
Glide across floors artfully designed with handmade Nicaraguan tiles. Softness, truth, and intention unite beneath your feet, evoking a sensation of antiquated times. Ornamental designs reminiscent of the past unite with the simplicity of modern design.
CoCo houses are inspired by seed cones, where nature contains its precious promise to the future.
Atelier Villa
Atelier Villa was designed as a private residence for the investor and his family. Nestled against a steep slope, the 26-metre-long prismatic object partially levitates over lush tropical vegetation. Looking outside, there is only the distant ocean or green hills as far as the eye can see; the back wall facing the driveway and the neighbouring villas is intentionally windowless, to maintain privacy.
The first and foremost priority is not only the idea of "erasing boundaries between interior and exterior" but also highlighting constructional simplicity and pure lines (pura vida >> pura arquitectura). The constructional system consists of a steel frame with a span of 4x4m.
Discreet wall colours in combination with the green roof allow the villa to really blend in with its surroundings. The ocean and jungle-oriented façades are fitted with large-size aluminium perforated sections which a) do not heat up in the sun and b) are rust-resistant. If pulled up, they double as canopies. The scale and pattern of perforation is different on each of the sections, thus creating an exciting play of light and shadow inside. The panels' special coating is in the colour of COR-TEN. The full back wall is in charred timber cladding treated with Shou Sugi Ban, an old Japanese technique of weather- and age-proofing the wood.
Disposition-wise, the villa possesses the same minimalistic spirit as its shape suggests. The utility and storage rooms, bathrooms and the kitchen are placed along the back wall.
The layout of the rest of the house is very open; the boundaries between the inside and the outside world are gone and the whole space seems like a roofed terrace. Lightweight sliding partition walls may serve as a tool to create private zones and shake the space up as needed. The patio reveals an infinity pool, partly roofed and therefore protected from the scorching sun.
The whole interior is in warm, earthy tones of natural materials. All of the furnishings, apart from the lounge and dining chairs, are tailor-designed for this villa and custom-made. Commissioned in the area, the major part of the furniture was made with the help of local craftsmen. Some components were custom-made in the Czech Republic and transported to the site.
As for the Czech manufacturers, we decided to opt for the renowned Czech glass-making company Bomma and their Shibari lights that go hand in hand with the overall tropical feel of the interiors.
Project name
Atelier Villa
Art Villas Costa Rica
Studio                          Formafatal
Author                          Dagmar Štěpánová
Co-author                    Martina Homolková
Project location           Bahia Ballena, Playa Hermosa, Costa Rica
Project year                 2017 – 2018
Completion year          2016 – 2019 (completed in December 2019)
Built-up area               326 m2
Usable floor area        298 m2
Site size                       25 000 m2
 Client                           Filip Žák
Photo credits               BoysPlayNice
Collaborators               atelier Flera | landscape architect – greenery and garden elements |
Collaborations
We are working closely with an international community of like-minded artists and high-profile businesses to organize, host, and curate retreats. These events will provide small groups of people and couples with an unforgettable mind, body, and soul experience.
Our journeys to various retreats all over the world have inspired us to create unique experiences where our guests can expand, evolve, and, reconnect with their pure self. We invite inspirational teachers to our ambient space to lead us to transcendence through various media: yoga, pole dance, art, lecture, and more. Creators of all types will gather here with us to explore and expand the limits of their conscious experience (see our Retreat To Transcendence page to learn about an extra special local event). We also host weddings and offer off-site retreats.
Bio – Formafatal
We're team of friends – architects, designers and scenographers. We're creative studio focused on architecture, interior design, exhibition installation and product design.
Studio Formafatal was founded by architect Dagmar Stepanova, and the team is now Dagmar, Jan, Martina, Katarina, Iveta, Dana, Anna and Debora.
8-member team is currently working on several commercial and residential projects not only in Czech Republic, but across the world. Formafatal studio has already won several domestic and international awards for their projects.
We create public spaces, where people feel like home, and homes, that are tailored to the clients' needs. All projects we approach individually and with focus on specific human needs. Individual approach for each project is based on mutual understanding with the client, enthusiasm, natural collaboration and unified conceptual solutions. We solve projects complexly from creative concept to realization, with attention to detail.
Bio – Dagmar Štěpánová
Dagmar graduated from the Faculty of Architecture – Czech Technical University in Prague.
After twelve years of architecture practice, she founded her own studio Formafatal, which has existed for the fifth year. The architect carefully selected each member for her studio and claims that together they form amazing team. Formafatal is like a family to her.
8-member team of architects, scenographers and designers is currently working on several commercial and residential projects not only in Czech Republic, but across the world.
Formafatal studio has already won several domestic and international awards for their projects.
Already during her studies, she loved the culture and architecture of South and Central America. The Art Villas project has made her dream come true and Dagmar is currently building a branch for her Formafatal studio in Costa Rica. "You need to have dreams and follow your goal. For me it means to do everything I can to deepen my experience, to work on myself and what fills me most"