Balcony of the Bay by Zooco Estudio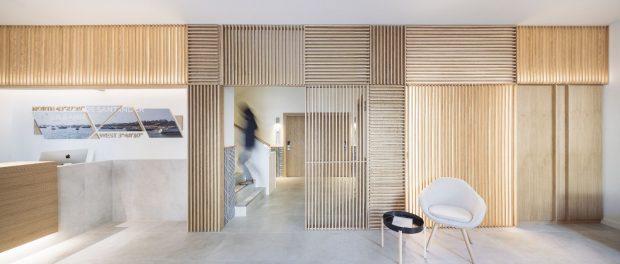 The project is carried out in a building located in one of the most emblematic avenues of Santander and enjoys a privileged location with wonderful views of the bay. With almost a century old, the construction has been destined throughout its history to the teaching use, being in origin a school, later a university center and finally, a nursery.
With this intervention, a transformation is proposed to convert it into a residential public space, but, is it a hotel or a student residence? The answer is "both", since it functions as a residence during the university academic course and as a hotel during the summer.
This premise requires that the rooms can resolve the needs of its occupants in these two situations (shared double room for a long-term accomodation and double room for short period of holidays), with a simple movement of the beds and thanks to the versatility of headboards-cupboards.
Given the close relationship of the city and the building with the sea, it is intended at all times to refer to the marine theme in its essence, in a synthesized and purified way, through the use of materials such as oak and limestone , so prevalent in the marine infrastructures through light colors with predominance of blue and grey and pure and clean geometries.
Project: Balcony of the Bay
Year: 2018
Architect: ZOOCO ESTUDIO; Miguel Crespo Picot, Javier Guzmán Benito, Sixto Martín Martínez
Collaborators: Beatriz Cavia, Beatriz Villahoz
Photographer: Imagen Subliminal
Construction: CONSTRUCCIONES COBOMAN S.L
Illumination: ZOOCO ESTUDIO
Furniture: ZOOCO ESTUDIO