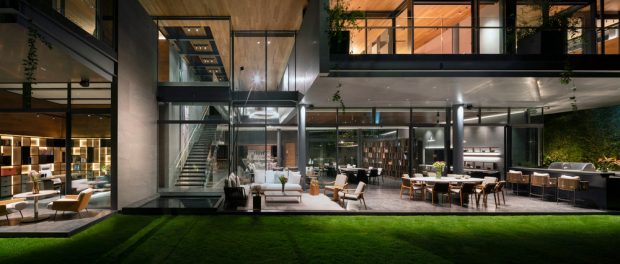 Grupo Arquitectura proudly presents Casa Escondida. The house is built as a metal structure and concrete walls, allowing for large spans and overhangs. Throughout its volume, the home is lined, both inside and outside, with Basaltic stone.
The house is inserted into a curved geometry terrain on one of its edges at the access level, and its topography presents an unevenness from the street. Accordingly, the social spaces of the house are located below, at the level of the main garden. Access is through a lobby where a glass corridor traveling along the metal structures that support the house provides transparency. A wide staircase leads down to the rooms, where the main space housing the living room, dining room, bar, family room, breakfast area, terraces, library, kitchen, and various services is unveiled.
The main hall is located between two gardens, with high ceilings and expansive windows on both sides. The staircase is detached from the walls, appearing as if it were floating with its granite steps. The rooms located at street level all face south and feature private terraces, integrated bathrooms, and dressing rooms. The basement level features a 12-car garage, equipment rooms, cisterns, storage areas, a game room, and a gym with dressing room and bathroom.
The house is built as a metal structure and concrete walls, allowing for large spans and overhangs. Throughout its volume, the home is lined, both inside and outside, with Basaltic stone. On the main facade, rolled metal beams with the curve of the street provide an overhang to protect volumes of light Oak vertical strips. The large Oak cover of the volume extends from the interior to the exterior, as well as to the perimeter of the roofs.
The house features a monochromatic stone coating palette in shades of gray, providing a large neutral canvas for choosing furniture with different textures, coatings, and colors. All furnishings were carefully selected, and they blend in to the scale of the architecture as if the spaces were custom designed for them.
The home's water and electricity infrastructure is state-of-the-art, with intelligent systems that enable maximum efficiency in terms of resource usage. Water is heated by photovoltaic solar panels, and low consumption lighting is installed throughout. Additionally, the tempered glass of the windows insulates and maintains temperatures.
Other images can be seen in the gallery down below

Location: Mexico City, Mexico
Built surface: 1200 M2
Program: Living room, dining room, terraces, office, bar, kitchen, toilets,
Family, 3 bedrooms with bathroom-dressing room, master bedroom.
Architect: Grupo Arquitectura
Project: Grupo Arquitectura, Daniel Álvarez
Lighting: Gtec iluminación, Enrique Sordo, Dinorah Sánchez
Automation: Architectura Agis, Isaac Shturman
Structure: Metalitec
Fenestration: Vitrocanceles
Carpenter: Zafra
Marble: Francisco Puente, Stones Piedras Naturales
Kitchen & dressing rooms: HAJJ, Designless
Furniture: HAJJ, Designless
Photography: Agustín Garza
About Grupo Arquitectura
Founded in 1980, Grupo Arquitectura specializes in interdisciplinary professional services related to architecture, urban and interior design, and construction and real estate projects at every stage of development. To that end, the firm encompasses every human, technical, and financial resource required, as well as a portfolio of specialized engineering, ecology, legislative, and financial advisers who serve as consultants in some studies and projects.
The firm works closely with its clients on every project to develop a clear understanding of their needs and requirements. In doing so, the Grupo Arquitectura team ensures that every project is developed efficiently, and with a distinctive aesthetic stance.