Casa Matias Alves by Joana Marcelino Studio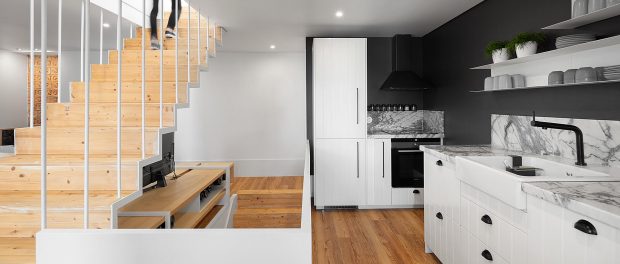 This is the rehabilitation and expansion of a building in the historic center of Leiria for two-family housing. The total recovery of the existing façade is based on a very common language of the city of Leiria, with the openings in bordeaux and white colors, surrounded by stonework.
The vertical extension that marks the new phase in construction, is surrounded by a white wooden slat. The intersection of both architectural moments dictates the uniqueness of this project. From a gable roof, on the rear elevation, there is a glazing that follows the slope of the roof, and which marks the interior of the space with unique natural light transposing the city into the interior of the house and giving the feeling of outer space.
Inside, architecture materializes the experience of this family, positively influencing the day-to-day and family behaviors. "In all the spaces that I design, I want each of them to have its own identity." Architect Joana Marcelino.
The staircase, in the first section, solid in pine wood leads to the common and familiar area. The simplicity of this space takes shape with the architectural lightness of the second flight of stairs positioned in the center, differentiating the kitchen and living space. However, the composition of the staircase, the iron guards that suspend it, manages to unify and mark a transparency between both spaces at the same time.
The upper floor, composed of private areas (bedrooms), welcomes us with a double height area, accompanied by the glazing that folds on the roof, conveying a spatial sense of verticality and projection over the city. The mezzanine, composed of an office and leisure area, conveys a visual depth achieved by the wooden structure in sight, which accompanies the roof and which surrounds the openings. From this two skylights are born with a privileged view, directly over the castle of the city of Leiria.
The soul of the space is born from the harmony of the project between the existing, the rehabilitation and the expansion and uniformity between the materials used, combining the various shades and textures. The materialization of the space contributes to the family atmosphere, which affirms calm in the city, in an extremely architectural environment full of light.
Project Name: Casa Matias Alves
Office: Joana Marcelino Studio
Architect: Joana Marcelino
Photo credit: Ivo Tavares Studio
Website: https://www.joanamarcelino.com
E-mail: info@joanamarcelino.com
Facebook: https://www.facebook.com/joanamarcelinostudio
Instagram: https://www.instagram.com/joanamarcelinostudio
Location: Leiria, Portugal
Year: 2017
Área total (m2): 180m2
Client: Privado/Private
Photographer: Ivo Tavares Studio
Website do fotógrafo: www.ivotavares.net
Facebook: www.facebook.com/ivotavaresstudio
Instagram: www.instagram.com/ivotavaresstudio