Chocko Valliappa, CEO – VEE Technologies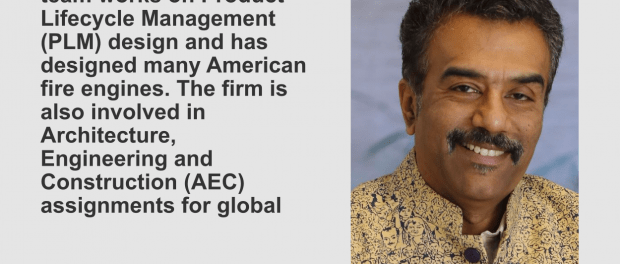 What field does VEE Technologies engaged in?
Bengaluru, Salem and New York, co-headquartered Vee Technologies, is a 23-year-old consulting and professional services organisation and a trusted partner to enterprises and organisations globally. Vee Technologies provides software, analytics and strategic IT services. It works with over 150 US hospitals, including six of the top 10, touching nearly 30 million lives while handling clinical coding and revenue cycle management services. A preventive healthcare initiative by VEE Technologies- Vee+ promotes public health through automation and technology-led assessment of population risk, stratification and predictive analysis.
Vee Technologies' product engineering team works on Product Lifecycle Management (PLM) design and has designed many American fire engines. The firm is also involved in Architecture, Engineering and Construction (AEC) assignments for global customers that include creating some of the iconic buildings around the world. The Proprietary Risk Adjustment Optimisation tool by Vee Technologies offers a risk-assessment solution that aids healthcare experts and practitioners initiate appropriate wellness recommendations, medication plans and nutrition to mitigate future health risks.
Vee Technologies has been named a 'Top Healthcare Employers' by Modern Healthcare's Rankings 2020, 2021 and 2022. Vee Technologies has delivery centres in Karnataka, Tamil Nadu, and Telangana in India, the Philippines and the USA.
What kind of services are offered by VEE Technologies (V5)?
V5 facility comprises three studios, with studios 1 and 3 primarily serving the Medical Coding team, while studio two is designated for the Medical Billing team. Medical Coding involves transforming diagnoses and medical procedures into alphanumeric codes. Vee Technologies collaborates with physicians based in the US to facilitate insurance claims.
What are the benefits that VEE Technologies and it's employees get by blurring the lines between workplace and park within the office?
Workers at the V5 facility consistently provide feedback that their working environment is distinct from typical offices and that the setting of this facility is invigorating. This "office in a garden" setting creates a sense of being surrounded by a refreshing landscape, as the garden is always visible through glass walls. Notably, engagement and productivity levels are elevated in this workspace, as the exposure to greenery contributes to stress reduction. Breaks are particularly impactful, given that employees can unwind in the garden, instantly uplifting their mood.
With the fact that the office has been built using recyclable materials such as steels and networks of flexible structures. What benefit does that material brings to the design?
The primary advantages of this design include sustainability and a minimised carbon footprint. With an intent to transform the building into a cafeteria upon the business park's full operational status, the design solution facilitates remodelling the structure for a different purpose within a few years. Hence, implementing a flexible grid structure proved advantageous in terms of cost-effectiveness and time efficiency.
Steel structures offer a sleek and modern appearance and speed up construction and reduce labour requirements. Design flexibility is also an added factor contributing to cost savings over the project's life cycle.
What are the reasons for using recyclable materials?
Environmental sustainability, waste reduction, cost savings, energy conservation, and reduced GHG in processing raw materials are some advantages of using recyclable materials.
How much percentage of costs can be saved by using solar panels?
At the Vee Technologies V5 facility, significant cost savings of approximately 15-25% have been observed through the utilisation of solar panels. The extent of these savings is contingent on the efficiency and usage of the solar panels, as consistent maintenance plays a crucial role in enhancing their productivity.