Cottage Inspired by a Ship Cabin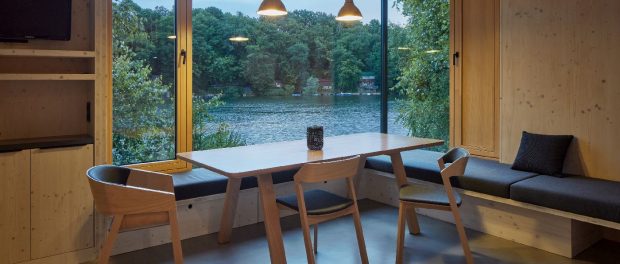 The inhabitants of a small wood cottage located in the greenery above Vranov Dam may feel like in the cabin of a ship. The interior is practically arranged – basically nothing is missing here. Large windows provide beautiful views of the dam.
The small cottage, concealed with sunburned larch planks, located in the greenery above the Vranov Dam, provides surprisingly big interior space. Not only owner's family, but also visitors can enjoy it. It provides plenty of space for evening gatherings as well as for sleeping. There are inconspicuous storage spaces in every corner of the house and everything has its place just like in a cabin of a ship. The interior of the house is interconnected, but at the same time the attic provides plenty of privacy. The interior surrounded by spruce wood offers a cosy refuge, whereas large, glass panes overlook breath-taking water surface.
At the beginning there was a legacy – the investor acquired a small cottage on the bank of the Vranov Dam from his grandfather. He approached Prodesi/Domesi with a specific assignment – he wanted a wood cottage built on the existing foundations which would have everything that today's modern timber buildings allow for, and which would become a comfortable haven for his family on weekends and holidays. The architects had to deal with the forest land and also with the floor plan of the original cottage they had to stick to while constructing the new timber construction.
As the architect Klára Vratislavová says: "The construction of the house went hand in hand with its interior design, so that we could make good use of every inch of space that the original grandfather's cottage had set for us." Finally, they were able to fit in such a small place with dimensions 5 x 8,5 m a dining room, living room with a remarkable view of the water level, spacious entrance hall with a bench for changing, bathroom, separate toilet, pantry and utility room. Upstairs they created larger and smaller bedroom and a dressing room. "We took a reverse approach when designing the upstairs. First, we created the necessary spaces for bedrooms and after that we "cut off" the exceeding part of the roof, so that the house would be as small as possible. Our goal was to design a building that humbly integrates into the green slope above the water with mostly modest old cottages," adds Klára Vratislavová.
A cabin on a ship was an important inspiration evoked by nearby water surface, especially when designing the interior – everything in this small room is practically arranged, using up literally every inch of the space. The contrast between the exterior and the interior is also impressive. From the outside, the house is purely functional and modest as for the used material. By contrast, inside it is modern, spacious, and thought-out to the last detail.
other photos can be seen in gallery down below

Studio
Prodesi/Domesi
Author
Klára Vratislavová, lead architect, interior design
Pavel Horák, lead architect
Contact E-mail
k.vratislavova@prodesi.cz
p.horak@prodesi.cz
Website
www.prodesidomesi.cz
Social media
www.instagram.com/prodesi_domesi
www.facebook.com/domesi.cz
Design team
Jan Švarc
Project location
Vranov nad Dyjí
Project country
Czech Republic
Project year
2015
Completion year
2021
Built-up Area
43 m²
Usable Floor Area
65 m²
Dimensions
5.2 x 8.4 m
Photographer
BoysPlayNice, info@boysplaynice.com, www.boysplaynice.com
Collaborator
Building company: Domesi, www.prodesidomesi.cz
Materials
construction – solid wood CLT panels
façade cladding – burnt and oiled larch planks
windows – larch frames with insulating triple glazing + chambranles around the windows: larch planks with natural glaze
interior doors – non-rebated, organic spruce planks
interior walls + ceiling – organic spruce planks
floor – 1st floor: concrete walls, 2nd floor: carpet
fitments + kitchen – organic spruce planks / MDF (based on the author design by K. Vratislavová)
About studio
In 2002, architects Pavel Horák and Václav Zahradníček founded the joint studio Prodesi, which specializes exclusively in timber buildings. Because they like to follow through with what they start, three years later they founded the company Domesi, which deals with complementation of their projects. Both companies help their clients with every single step of the project, from securing a building permit to handing over the keys to their new house. They have over two hundred completed timber constructions under their belt, not only family houses based on individual designs and turnkey timber constructions, but also modern public buildings. Prodesi/Domesi projects and implementations are positively perceived by both the professional and lay public. They have already won a number of domestic and foreign awards (for instance, 3x Big See Awards in Ljubljana, Slovenia, or more recently the award Dřevostavba roku 2020 in the Modern Buildings category for the project of the kindergarten in Všetaty). The architects regularly give lectures on timber constructions at universities, vocational schools, and trade fairs, publish articles on industry news and organize the annual event Salon dřevostaveb – a unique exhibition of modern wood architecture that presents the best timber constructions ever built.