Expanding Reach to Tangerang Area, BLANCO Indonesia Opens New Showroom in Alam Sutera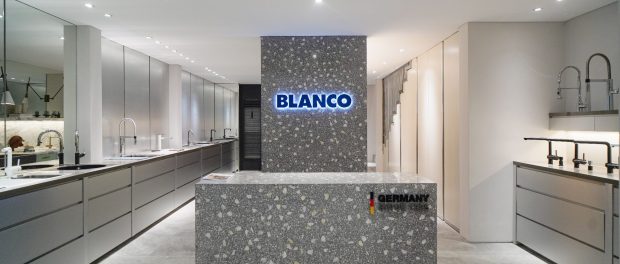 The kitchen has always been the center of every home and many family activities. Because it is directly related to water management, the kitchen sink is the most vital part of the kitchen to be more efficient and enjoyable.
Through Tranindo Sejahtera, BLANCO officially opened its 2nd showroom in Indonesia at the Open Door Alam Sutera on September 16, 2022. It is wholly owned and managed by Tranindo Sejahtera, the sole distributor of BLANCO in Indonesia.
With more than 36 years of experience distributing BLANCO products, Tranindo Sejahtera further enhances the position of BLANCO as a provider of premium kitchen products with the new showroom in Alam Sutera. Previously, BLANCO already had a flagship showroom in the Jakarta Design Center building, South Jakarta.
Over the past few years, Tangerang City has experienced an increase in the development of residential areas. BLANCO aims to educate and set the market standard for the ideal kitchen.
The BLANCO Alam Sutera showroom features a wide variety of premium and modern kitchen sinks installed in several different kitchen layouts. It gives customers ideas of what their dream kitchen would look like using BLANCO kitchen sinks. Customers can also pamper themselves in the kitchen and lounge area, where they can simulate how the concept works in a kitchen equipped with BLANCO products.
"After visiting and learning more about BLANCO, Tranindo Sejahtera is sure that potential homeowners want to complete their dream home quickly with BLANCO," Sugandi Santoso (the Managing Director of Tranindo Sejahtera) said.
Focusing on the high-end market, BLANCO has long been a market leader in the kitchen industry globally and in Indonesia. Customers in the kitchen market around the world have been captivated by BLANCO SILGRANIT® proprietary ingredients. With over 300 models in 10 different elegant colors, customers can enjoy the unrivaled SILGRANITE material in various ways.
On this occasion, BLANCO also introduced its newest concept, the BLANCO UNIT.
BLANCO UNIT is a kitchen solution that integrates and combines a kitchen sink, kitchen faucet, and kitchen waste/garbage management system to simplify workflows around the kitchen. Customers can get more work done more efficiently in a small space with BLANCO UNIT.
Through the BLANCO UNIT solution, BLANCO and Tranindo Sejahtera want to invite and educate the market to love the earth by managing waste in the kitchen properly and correctly. The waste sorting solution owned by BLANCO will greatly help kitchen owners to separate kitchen waste, whether organic or non-organic.
"The BLANCO Alam Sutera showroom presents the BLANCO UNIT solution with a kitchen waste/waste management system. Customers can now simulate preparation and cleaning in the kitchen, guided by the BLANCO UNIT solution. We are jubilant to be in South Tangerang. We believe this space will inspire people who build the kitchen of their dreams," Hans Nasemann (the Managing Director of BLANCO Asia Pacific) added.
The Open Door Alam Sutera is a complex designed and curated by a top architect in Indonesia, Jeffrey Budiman, to become a design hub in Tangerang and provide a one-stop shopping destination for architects and contractors to look for premium products for their project needs.
"Tranindo Sejahtera is highly pleased Jeffrey Budiman curated BLANCO to be a part of Open Doors. We believe our presence at Alam Sutera can inspire the latest high-end kitchen designs for architects, contractors, and young Indonesian art workers. Many are currently residing in South Tangerang areas, such as Alam Sutera and BSD," Orlena Kusnadi (the Creative Director of Tranindo Sejahtera) added.
The BLANCO showroom has officially opened at Flavor Bliss Alam Sutera, Open Door Unit 77, Jl. Alam Sutera Boulevard No.29, South Tangerang City, Banten 15325.
COMPANY INFORMATION – BLANCO & TRANINDO SEJAHTERA
BLANCO is a premium brand for well-thought-out kitchen water containers in private homes. At its core, BLANCO UNITS is based on three founding pillars: »Drink.Prep.Clean.« and is characterized by a wide range of combinations of sinks, high-end mixer taps, water optimization, filtration, cooling, and accessories—from soap holders to food waste disposers. The range of functions and choices of designs, colors, and materials eases every kitchen lover to find a UNIT that fits perfectly at BLANCO.
Founded more than 97 years ago, the company is now a prestigious international premium brand for kitchen solutions. With subsidiaries in Europe, North America, and the Asia Pacific, plus trading partners, BLANCO has a presence in more than 100 countries worldwide and offers its customers a portfolio tailored to consumer needs.
The BLANCO head office and production site are in Oberderdingen, Germany. In the 2020 business year, the BLANCO Group generated consolidated annual sales of €408M. It had 1,542 employees worldwide at the end of the year, of whom 1,102 worked in Germany and 440 in international locations.
Founded in 1925 by Heinrich Blanc, BLANCO is now part of the BLANC & FISCHER Family Holding and has won several company awards.
CV Tranindo Sejahtera is the sole distributor of BLANCO products and has been distributing BLANCO products for the entire Indonesian market for 36 years.
https://blanco-indonesia.com/