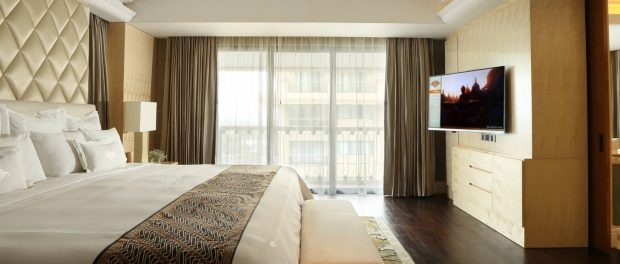 After successfully presenting two classy hotels in Yogyakarta and Semarang, now the third hotel is being built. Unlike the previous two hotels, Hotel Tentrem Jakarta is a five-star hotel.
This 17-storey hotel is located in Alam Sutera, South Tangerang. Irwan Hidayat, President Director of PT Hotel Candi Baru said the location of the hotel is strategic because it is located on an area of 5,500 meter square. This area in the west of Jakarta is considered appropriate for building Hotel Tentrem.
For this third hotel, PT Hotel Candi Baru as the operator collaborates with PT Praja Karalan Perdana as the developer. "I am pleased to collaborate with PT Praja Karalan Perdana as a partner for the construction of Hotel Tentrem in Jakarta. Moreover, Hotel Tentrem Management Indonesia became the first hotel operator for Hotel Tentrem Jakarta," said Irwan.
As a developer, Agus Budiono Pikanto, President Director of PT Praja Karalan Perdana said he chose Hotel Tentrem because of the reputation of the two previous hotels that have been operating in Semarang and Yogyakarta.
Meanwhile, Karina Pikanto, Director of PT Praja Kralan Perdana, explained, choosing Alam Sutera because the area is strategic, modern, and developing. Alam Sutera is an independent area that already has complete facilities, ranging from education, health, sports, to shopping centers.
"In Alam Sutera, there are very many young people. We hope that the presence of Tentrem Hotel can add to the crowd and complement the existing ecosystem and facilities," he said.
The construction structure of Hotel Tentrem Jakarta has been completed. The Topping Off Ceremony will be held on Thursday, 20/7/2023). According to Mario Hidayat, Director of PT Hotel Candi Baru, Hotel Tentrem Jakarta will operate in early 2024.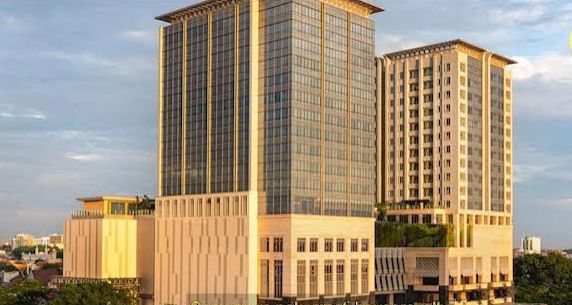 Selamat & Sukses
atas Pembangunan
HOTEL TENTREM JAKARTA
The five-star hotel occupies an area of 5,500 hectares with a building area of about 33,000 square meters. The height of the 17-story building is added with two basements. For hotel rooms there are 200 rooms varied, ranging from deluxe to presidential suite.
Hotel Tentrem Jakarta is equipped with ballroom and function space facilities for a capacity of 1,000 people, full spa and gym, pool and terrace, restaurant and café, Chinese restaurant, Indonesian-fusion restaurant, and lobby and lounge.
For your information, Hotel Tentrem is a new paradigm wrapped in luxury in a traditional atmosphere. The name 'Tentrem' is taken from the Javanese language which has a deep meaning of the value of peaceful Javanese life.
This meaning also carries the concept of harmony between the universe and human life that is calm and brings peace. Focusing on more than five-star service, Hotel Tentrem presents the concept of luxury combined with value-for-value experiences with a local touch.
Project Name: Hotel Tentrem Jakarta
Location: Jalan Alam Sutera Boulevard No 11, Alam Sutera, South Tangerang
Developer: PT Praja Karalan Perdana
Hotel Operator: PT Hotel Candi Baru
Architect: PT Grahacipta Hadiprana
Main Contractor: PT Tatamulia Nusantara Indah
Construction Managament: PT Jaya CM Manggala Pratama
Flat glass supplier: PT ASAHIMAS FLAT GLASS Tbk
Electronic & sound supplier: PT Galva Technologies Tbk
Land Area: 5.500m2
Building Area: 33.000m2
Total Storey: 17 floors + 2 basements