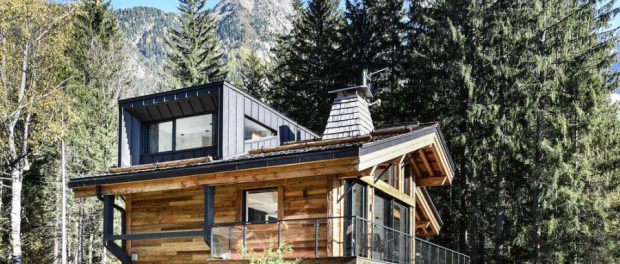 The project began with the discovery of this exceptional land by the architect who proposed it to the client. The latter, seduced, envisages the construction of three chalets, which will be reduced to two constructions to conform to the agreements made with the municipality.
The client, who has already carried out other projects with the agency, wanted a contemporary, unprecedented, and striking proposal. He asked for a strong and pure signature of the Agency's architectural style. And thus, the kiosks on the roofs, these open volumes tore from the agreed space, are born and gives the master-bedroom a spectacular view on the chain of Mt Blanc, a luminous escape.
The whole was devised taking particular care in framing the view, to isolate themselves from the road while ensuring easy access and good relations with the neighborhood.
The property boundaries brought its share of technical challenges with the difficulties inherent to the holding of the land during the first phases of the work. In addition, the connections between the kiosks and the roof required expertise and ingenuity to guarantee water tightness and good insulation. "Belles Echappées" includes wellness areas, such as a sauna, a hammam, spas, all powered by geothermal energy to reduce energy consumption.
The chalets were built on the basis of a concrete frame, dressed in wood and metal, allowing to integrate the responses to seismic constraints. This blend of materials enhances the design of this project with its high-end finishes.
For the architect, "Belles Échappées" offers a singular project with a sharp personal style
Technical Sheet
Official Project Name: Les Belles Échappées
Location: Chamonix Mont-Blanc France
Architect:  Renaud Chevallier
Design team: David Castagna, Thibault Forissier, Sophie Rubin
Project completion date: 2019
Photographer: Solène Renault
About Chevallier Architectes
Chevallier Architectes' story begins more than 60 years ago when Henri Chevallier and his partner decide to put their skills and combined energies at the service of the economic and social development of the Chamonix Valley. Single and collective dwellings, public/industrial/commercial buildings… The curiosity and thirst to learn of the Knights, transmitted from generation to generation, are insatiable. So nothing is due to chance.
Living architecture as an art form, we are constantly looking for innovative ideas for the project be unique. Work on light, mixing wood/metal/glass materials, harmonious integration, and respectful of its environment for work without equivalent.