Luxury Residence Cluster Laurel Navapark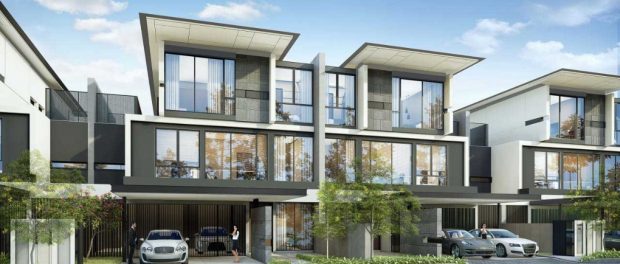 Laurel Navapark Cluster is the fourth premium cluster in Navapark BSD City, South Tangerang. The advantage of this cluster is that it has direct access to the 10-hectare Botanical Park and the 2.5-hectare Country Club. Luxury tropical modern houses with full marble floors and equipped with elevators.
Laurel Navapark is one of the exclusive clusters in BSD City. This cluster was built after Sinarmas Land successfully built luxury clusters in other Navapark areas such as Lyndon, Lakewood, and North Point.
Laurel Navapark was built by Sinarmas Land, one of the largest property developers in Indonesia. In the development of Laurel Navapark, Sinarmas Land cooperates with Hongkong Land.
Laurel Navapark is the best choice for those of you who want to live in a beautiful area in the middle of BSD. This cluster will give you a comfortable and luxurious living experience that combines magnificent buildings in a prestigious environment and pleasant greenery.
Laurel Navapark is a modern tropical residence with a beautiful living environment. This building features double ceiling foyer, double ceiling living room, panoramic window living room, elevator, smart home system, canopy, wet and dry kitchen, hanging garden, and direct access to Botanical Park 10 Ha.
The classy house appearance of the Laurel Cluster has two types 10 and type 12. Laurel type 12 with a size of 12×23. 3 storey houses with 4 bedrooms and 4 bathrooms, 2 indoor garages and 2 carports. The land area is 276 m2 and the building area is 441 m2. Laurel Navapark provides very limited units, only 78 units. This luxury residence is marketed with prices starting at IDR 15 billion.
Laurel Navapark is particularly strategic, located in the Navapark BSD area which is surrounded by various excellent facilities; a luxurious house with lake views, located on Jalan Laurel Navapark BSD City No 1 South Tangerang.
Laurel Navapark Cluster provides various facilities that support the comfort of residents. There is a Botanical Park and a very luxurious Country Club. Various indoor and outdoor facilities, such as swimming pools, aqua gyms, basketball and badminton courts, golf course, karaoke rooms, multifunctional rooms, restaurants, and many more.
Some public facilities around the Laurel Cluster: shopping centers (AEON Mall, BSD Plaza, Teras Kota, QBIG, The Breeze), office area (Green Office Park, Digital Hub, Unilever Head Office), educational institutions (Prasetya Mulya University, UMN, Atmajaya University, and Jakarta Nanyang School). This cluster is also adjacent to health facilities that you can reach easily, such as Eka Hospital, BSD Medical Hospital, and Omni Hospital.
Besides being close to various public facilities, Laurel Cluster is also located not far from toll access that connects to the airport and several cities. From the cluster area, residents can easily reach Serpong – Bintaro Toll Road (15 minutes) and Soekarno Hatta Airport (40 minutes).
Selamat & Sukses
atas Pembangunan
CLUSTER LAUREL NAVAPARK
For your information, Sinarmas Land has built various superior property products. Ranging from independent cities, residential clusters, commercial areas, to quality hotels. Sinarmas Land properties are not only developed in Indonesia, but also throughout Asia and Europe.
Name: Cluster Laurel Navapark
Location: Jalan Laurel Navapark BSD City No 1 Tangerang Selatan
Developer: Sinarmas Land and Hongkong Land
House type: Two types 10×23 and 12×23. 3 storey houses with 4 bedrooms and 4 bathrooms, 2 indoor garages and 2 carports