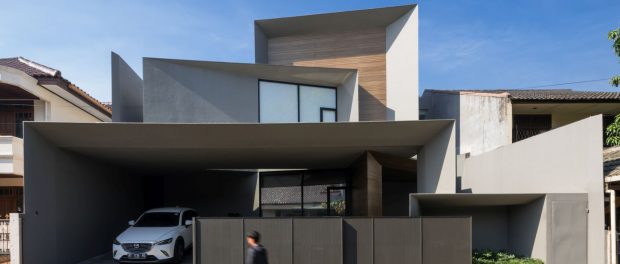 The house is a response to the surrounding environment and the owners' needs, with a focus on creating a harmonious composition and functionality. Not only does it showcase a unique exterior facade, but it also addresses the challenge of creating a large opening for the cantilever outdoor to indoor while remaining safe from floods level issues. Privacy and welcome were given emphasis in the design decisions, with the front of the house leading to a corridor that reveals an open courtyard and swimming pool in the backyard.
The Origami House, is a unique and meticulously crafted home located in East Jakarta. The house, sits on a 310 square meters land and features a 277 square meters building.
The interior optimizes space, with the living room acting as the central area and a void space creating a sense of expansiveness. Natural light plays a crucial role, with the house designed to maximize its presence. Creating a solid statement Origami's form. Framing Origami from the front elevation into a "shell" as a spatial inside.
The programming on Origami's house is to maximizing the center and void area as a public, and separating the private on two sides. The lower levels feature the master bedroom on the left side and a guest bedroom on the right side, which separate by living, dining and pantry area. The center and void area also provides a direct access to the backyard in center area, which includes a swimming pool, a small garden, and a decking area.
The second floor comprises children's bedrooms, a workspace, and a service area. The design elements create unique spatial experiences, utilizing materials and transitions to create a sense of separation without isolation.
Focusing on the functional and aesthetically pleasing spaces, emphasizing the importance of meeting the homeowners' needs and habits, overall, the Origami House embodies the identity of its owners and the context in which it was built.
Other images can be seen in the gallery down below

Architect: Atelier Riri
Location: East Jakarta, Indonesia
Team: Novriansyah Yakub (Principal Architect), Sandika Putra (Architect in Charge)
About Atelier Riri
Atelier Riri is a design and architecture firm founded by Novriansyah Yakub (Riri) in Jakarta. This Firm is a broadening notion to what Riri believes and has done since he began his architectural debut in 2005. Until now the firm has evolved with the work of architecture, interior, landscape, and product design. All of those works reveal a deep concern on reliable function without setting aesthetic values aside.
The key to this dedication is always listening to and asking the clients which will gather more information to understand and learn essential things of the user's requirements and demands. Atelier Riri's point of views on architecture and other fields of creative designs have always focused on how to connect the lives, the surroundings, and the sustainable design minded within a contemporary solution.
Therefore, architecture works will not merely a building, but also a responsive attitude toward its context.
Atelier Riri
Jl. Perkici 14 blok EB 5 #15-17
Bintaro Jaya Sektor 5
Tangerang, Indonesia
www.atelierriri.com
e-mail: info@atelierriri.com
Instagram: https://www.instagram.com/atelier_riri/