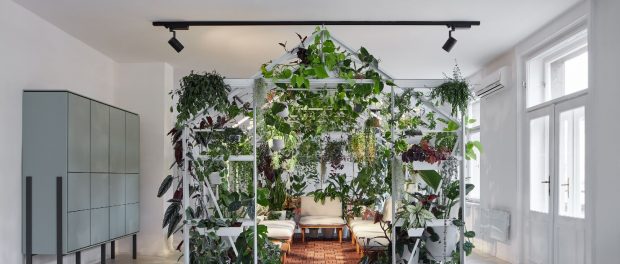 Poetizer's offices blend minimalist interiors with the wild jungle that thrives in the open-air greenhouse at the heart of this unique poetry start-up based in Prague, Czech Republic. The unique space in the center of Prague thus provides its employees with an inspiring background for everyday work and a creative zone that allows them to get away from the outside world and fully indulge in creative activities.
Poetizer is the largest social network for poetry lovers in the world, with millions of poems posted by users from 120 countries. The startup recently launched an ecological all-in-one publishing platform that democratises the entire publishing process, enabling anyone's poetry to get published and sold.
Poetizer's 150 sqm office is located on the fourth floor of a First Republic building on the vibrant Narodni street in Prague. The interiors are designed by architect Tomáš Císař and designer Johana Sedláčková Vamberská. The concept is based on Poetizer's same focus and identity; a minimalist platform that emphasizes environmental protection.
The focus of the story of the offices is the greenhouse space – a wild jungle, a mythical Eden, an area that expresses the concept of wild thinking. Thinking that, according to Claude Lévi-Strauss, is close to our ancient ancestors and contemporary poets. He contrasted this initially intuitive and associative thinking, which he likened to a rich rainforest ecosystem, with an already domesticated, strictly rational thinking.
The centrally located greenhouse is a place for informal gatherings, offering a space for streaming poetry readings or serving as a place to relax. The skeleton of the greenhouse grows 171 plants, among which over 100 species are represented. The main room also houses individual workstations, which are arranged into two islands – this is where daily work and immediate communication take place. This space is connected to the kitchen and a balcony overlooking Narodni street. The main story is prefaced by the entrance hallway, which is followed by other chapters – two meeting rooms and a focus room.
The colors and materials chosen reflect the function of each space. White, a metaphor for a sheet of paper, is the predominant color in the areas designed for focused work, where pages are written. Dark green dominates the areas used for team communication, both in person and online. Accents of orange appear throughout the interior, tying in with the start-up's corporate identity.
Other images can be seen in the gallery down below

Data
Location: Národní 39, 110 00 Prague, Czech Republic
Architect and Interior: Tomáš Císař and Johana Sedláčková Vamberská
Porject Year: 2021
Completion Year: 2021
Usable Floor Area: 150m2
Cost: 61 000 €
Client: Poetizer
Photographer: BoysPlayNice, info@boysplaynice.com, www.boysplaynice.com
Florist: Lucie Pluhařová
Materials
greenhouse – aluminum structure, acacia timber floor tiles
tiles – ceramic tiles with terrazzo texture
kitchen – countertop – bronze metal sheet
kitchen – black matte TFL
walls – stucco, Mistral Universal painting
carpets – dark grey, knotted
About studio
Tomáš Císař is a licensed architect and urban planner who has participated in several international projects. He is the owner and founder of CisarStudio, which also engages in interior design in addition to architectural projects. During his eight-year tenure at the British studio Jestico + Whiles, he was the leader of the Zuri Zanzibar Hotel Resort project and participated in several other foreign projects. In the past, he also co-founded the architectural studio Black n' Arch, designing the award-winning Cyber Dog project and the upcoming reconstruction of the Smichov Distillery in Prague. Tomas won the Art of Space Award for his Black n' Arch Studio interior design. Tomas graduated from the Faculty of Arts and Architecture of the Technical University in Liberec.
Johana Sedláčková Vamberská is currently the Executive Director of the European Leadership & Academic Institute (ELAI). ELAI has been in business for 12 years and has established itself as one of the leading educational and consulting companies in the Czech Republic. Johana is a graduate of Oxford University and specializes in workplace design consultancy and office interior design. Johana takes a holistic approach to office interior design that emphasizes the use of circular economy principles, feminization of space, inclusion, and biophilia, i.e., the use of natural elements and plants to improve the work environment and employee wellbeing.