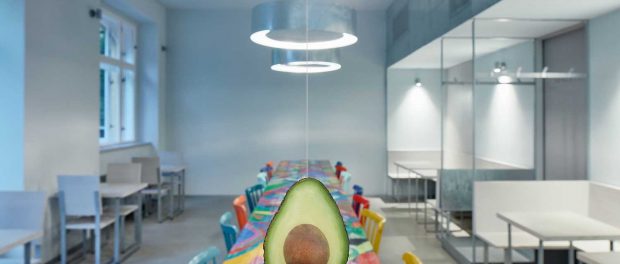 Avocado is great raw, "as it is", or prepared in 100 and 1 different ways.
100% healthy but also a pretty solid attack on the gall bladder.
Rich and saturated in color, but 'pastel'- toned down at the same time.
Wonderful – if handled well – or at least a bit different.
Avocado gang should be the same, a place where you can find avocado in pretty much everything, maybe just with the exception of liquor – and that's only before it's "cocktailed".
The first avocado restaurant in Prague, Avocado gang, was founded in a ground floor space of a street corner apartment building on Lyčkovo náměstí (Lyčka square) in Prague – Karlín. The simple longitudinal space of the restaurant offers a 9,3 m long table with 22 seats in the center and more seating along the walls. The open kitchen allows any of the customers to verify the freshness of their brunch. The multicolored center table is derived from the strong colorfulness of the avocado and the foods prepared from it. "Non-colors" on the scale of grey are a background for colorful objects – be it the table, chairs around it or – and this especially – the foods served here. The table is composed of spruce solid wood square timber in a 160 x 100 mm profile on legs from heat galvanized steel.
Spruce is further present in the interior in the form of a glazed bio-board, the heat galvanized steel as bases for other tables, chairs or as lighting and veneer for the longitudinal wall separating the customer area and the restaurant's facilities, as well as in the form of sinks and other elements. Everything is tied together by the cement floor finish and the light grey walls. However enough space is left for the avocado itself – whether you expect it in the form of guacamole or avocado pancakes with bacon. (Petr Moráček, architect, Mimosa architects)
Thoughts flow away, people dream. However, their dreams cannot come true without the help of other people. Avocado Gang is such a dream full of colours, tastes, shapes, enthusiasm, insanity, wackness…The restaurant – the first avocado restaurant in Prague. It has been the collective work of the great people.
Roots come from an avocado stone slowly, unobtrusively and haltingly a little. At the very beginning you shall not even take a note of the main root that makes the way for other ones. And, suddenly, a generous tangle appears of longer and shorter roots which secure its young and small stalk. And as the plant starts to germinate, sprouts and thrives, boasts and longs, it may rely on them. The roots go into depth and all sides forming the best foundation that the rebelling youth can get. The process is not too dissimilar to the opening of a restaurant. The likeness of Avocado Gang and a simple stone giving the birth of pure beauty may be, therefore, deemed absolute.
We have worked on the restaurant for long months before opening it, slowly and inconspicuously, sometimes with doubts and an uncertainty. We have sought the proper way and tested various possibilities. Our thoughts and hopes grew and dropped in turns. We rejoiced, looked forward and meekly built the firm foundations in order to be ready to say: "We have got it, we can grow and thrive. We can flourish!" (Karolina Konečná, the owner and sous chef of Avocado Gang)
Project name
Restaurant Avocado Gang
Studio                          Mimosa architekti
Author                         Petr Moráček
Co-author                    Kateřina Fryzelková
Website                       www.mimosa.cz
Contact e-mail            info@mimosa.cz
Project location           Křižíkova 72, 186 00 Prague 8 – Karlín, Czech Republic
Project year                2018
Completion year         2018
Usable floor area        106 m2
Photo credits               BoysPlayNice | www.boysplaynice.com
Collaborators               Painting                       Jitka Boková
Graphic design            Radek Rytina
Main contractor           Julius Hejnal
Steelwork                    Jiří Kurel
Carpentry                    Jiří Diviš
Materials
Galvanised steel elements | longitudinal wall lining, furniture structure, lighting fixtures
Spruce batten boards | furniture
Spruce KVH balks, brushed | main table
Stainless steel | gastro facilities, supplements
Products and brands
Chairs Ironica | TON | central table
Chairs Banana | TON | central table
Flooring Pandomo | AB Parkett | restaurant, toilets