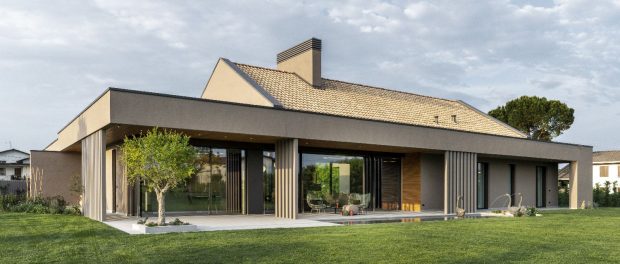 The villa is located on the edge of a small town surrounded by numerous vineyards for the production of Prosecco wine. The land owned covers an area around 25,000 square meters almost entirely suitable for building and is crossed by an irrigation canal with the south-east portion of the lot dedicated to vineyards.
During the construction of the house, the owner came up with the idea of abandoning the building plans to plant olive trees, separating in this way the house from the main road and the rest of the town; an olive grove of 400 trees was born which covers an area of about 2 hectares.
The desire of the client, an a hyperactive and constantly moving entrepreneur, was to create an oasis of relaxation for the weekend where children and grandchildren could gather to distract themselves from the daily routine.
The entrance to the villa is attested to the north with a pedestrian path separate from the entrance intended for cars, you cross a long porch with brickwork covered in natural split Credaro stone, while all the external flooring including the front of the garage is in typical local Piasentina stone slabs.
The living room, the central core of the house, is entirely glazed on the south and north sides, allowing a continuous view of the garden even through the built body.
To the right of the living room, separated by the fireplace, the dining room and kitchen and some service areas with access to the garage. On the left, the sleeping area with two bedrooms separated by a shared bathroom for grandchildren, a master bedroom with access from a dressing room and a private bathroom connected to the fitness area.
Other images can be seen in the gallery down below

Property: Private
Location: Province of Pordenone, Italy
Lot surface: 25,000 m2 of which 4,500 pertaining to the house
Olive grove surface: 20,000 m2
Vineyard surface: 500 m2
Covered house surface: 720 m2
Gross useful surface house: 450 m2
Completed: 2022
Design Team
Arch. Duilio Damilano
Arch. Enrico Massimino
Collaborators:
Geom. Lorenzo Romano
Arch. Marco Borsotto
Eng. Antonino Colussi – Structure project
Eng. Silvio Massimino – Heating system and insulation project
Eng. Alessandro Cozza – Electrical system project
Arch. Camilla Barbero and Paolo Roagna – Garden project
Materials
Structure in reinforced concrete and masonry, internal finishes in plasterboard, oak wood and Piacenza stone on the floor, natural split credaro stone on the external walls.
Geothermal heat pump system with underfloor heating and ceiling cooling and air exchange, powered by photovoltaic panels on the roof.