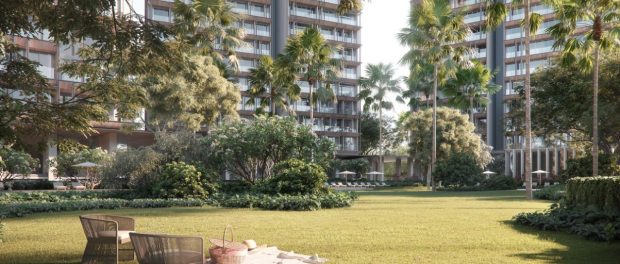 Savyavasa Apartment is a residence that prioritizes privacy and tranquility, both physical and spiritual, in the midst of the hustle and bustle of Jakarta. This luxurious apartment is a prestigious residence, a blend of modern lifestyle with a soothing touch of nature.
Located on Jalan Wijaya II, No. 37A, Pulo, Kebayoran Baru, South Jakarta, which is one of the strategic locations of South Jakarta, the premium apartment is developed by PT Jantra Swarna Dipta, which is a formation of two developers JSI Group and Swire Properties.
Mr. Ainsley Mann, Head of Swire Properties Indonesia & Vice President of PT Jantra Swarna Dipta, said, "The Savyavasa Apartment concept is a premium residence that prioritizes privacy, tranquility, and life balance. The strategic location in South Jakarta makes it a prestigious residence as well as a prospective investment in the future."
Savyavasa Apartment will have three towers consisting of 431 units of 2 bedrooms, 3 bedrooms, and 4 bedrooms apartments. Targeted at those who seek a high-quality balanced lifestyle in a prestigious neighborhood. Savyavasa's unique features include double height living and dining areas in the larger units, extensive facilities integrated with landscaping, a 1km long walking trail incorporating natural parklands and an urban forest.
In keeping with the developers' commitment to sustainability, Savyavasa will be the first residential project in Jakarta to be built to Greenmark Gold standard. With a unit price starting at IDR 8 billion, all units are complemented by a seamless integration of a smart living management system technology, in collaboration with Singapore-based technology partner Habitap, a first-of-its-kind in Jakarta.
Residents will also enjoy the carefully designed amenities including a private club indoor pool and gym, leisure and lap pool, jogging track, gym, multifunction court, indoor & outdoor kids' playgrounds, barbeque pit, lawn, electric car charging stations, clinic, and a minimarket, providing a unique quality of life to its residents.
The name Savyavasa emanates from Sanskrit and refers to southern living, which is best represented by the Dharmawangsa neighborhood in which Savyavasa is located. Set amongst three hectares of lush landscape in the center of Jakarta's most vibrant and culturally rich environment, PT Jantra Swarna Dipta chose this exclusive location for its suitability for high-end living, accessibility to the Sudirman Central Business District (SCBD) and connectivity to other areas around the city.
"We are optimistic that Savyavasa will pave the way for a new standard of living in Jakarta. Our vision for the property combines luxury, purposeful design, smart home concept and nature. Both the location and size of the site is completely unique to the neighborhood as is the natural urban forest that forms a significant part of the development. By respecting the natural environment, we were driven by the need to fulfill our mantra of 'creating harmony perfected by nature'," said Jefri Darmadi, President Director of JSI Group.
The Savyavasa community will be able to experience exclusive high-quality amenities including extensive landscaped grounds featuring two outdoor pools, sports facilities, children's play areas and an internal 1 km running track through mature natural woodlands. Other facilities include a gym, spa, casual dining, indoor and semi outdoor meeting areas as well as a clinic.
Designed by the internationally renowned consultants, the 2, 3, and 4 bedroom apartments combine the spaciousness and cross cooling ventilation, adapted from the Dutch colonial dwellings, with modern smart home facilities, and feature long balconies that allow residents to enjoy unparalleled views of the surrounding natural environment and city beyond.
Tower I presents 3 and 4 bedroom apartments with private lift lobby reserved for the most discerning individuals. The apartments feature a double-height ceiling in the living dining area together with spacious balconies, providing unparalleled views of the natural environment and city beyond.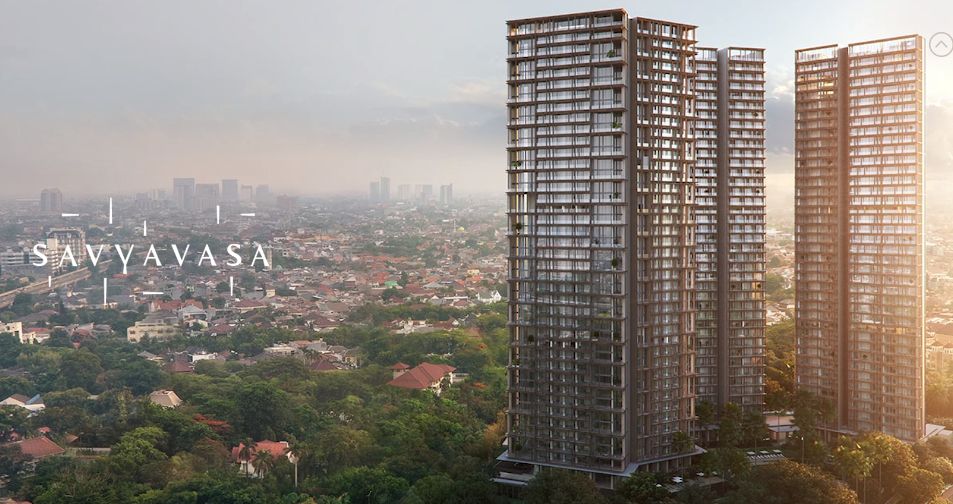 Selamat & Sukses
atas Pembangunan
Savyavasa Apartment
Offering the luxury of complete privacy, Tower I is further enhanced with a selection of exclusive amenities for its residents, including a private clubhouse equipped with an exquisite indoor pool and gym.
The 2- and 3-bedroom apartments provide a range of layouts that are highly adaptable to the varying lifestyles of the occupants. The residents can enjoy amenities including a cafe, gym, spa, indoor children's play area, multifunction rooms as well as outdoor leisure and sport facilities.
2 Bedroom & 3 Bedroom Apartment at Tower II & III
These2- and 3- bedroom apartmentsare ideal for individuals, couples or small families. The living dining area and bedrooms are connected to a balcony with an unobstructed view. The guest bedroom could also be flexibly used as either a study or media room.
Project Name: Savyavasa Apartment
Location: Wijaya II, No. 37A, Pulo, Kebayoran Baru, South Jakarta
Total Tower: 3 towers 431 units of 2, 3, and 4 bedroom apartments
Height of Each Tower: 39 storey
3 basement level car park
Retail shops and restaurants
Developer: PT Jantra Swarna Dipta, the joint venture between JSI Group and Swire Properties
Architect: SCDA Architects Pte Ltd
Local Architect: PT Wiratman
Main Contractor: Taisei-CSC
Fire Curtain Supply: PT Biru International