SCHAEFFLER DIGITAL TRANSFORMATION CENTRE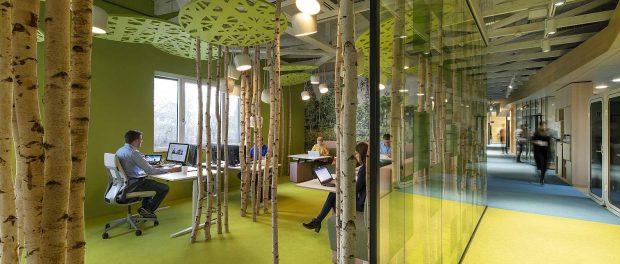 Featuring vivid and vibrant interiors, the Digital Transformation Centre of German automotive and industrial supplier Schaeffler was conceived to help develop a more creative and agile mind-set in the company by providing a work environment that stimulates design thinking, promotes innovation and delivers a youthful energy to a long-established firm.
The Brief
Schaeffler faced a number of challenges that needed to be addressed in its new office space. "We wanted to create a state-ofthe-art digital talent work environment that encourages employee creativity," says Olaf Mackert, head of the Digital Transformation Centre. "In addition, we wanted to create flexible, inspiring spaces in which teams – formed out of various cross-departmental specialists – can connect and work together."
Like many companies today, Schaeffler is seeking to break down the traditional vertical hierarchy in favour of a more flexible network of teams to create an agile organization that is able to deliver faster results. To achieve this goal, Schaeffler's digitalisation team works with design thinking approach – a process that requires maximum flexibility and necessitates the use of different types of workspaces, such as large workshop rooms, prototyping areas, adjustable workstations, event rooms, and individual work spaces.
The Solution
Floorplan
At Schaeffler's Digital Transformation Centre, every project starts with design thinking workshop. Therefore, the workspace design has been specifically considered to enable the flow of work processes within the team. The office is divided into three main areas that move from loud to quiet zones, enabling collaborative teamwork without interrupting more concentrated thinking.
The first area of the office is the communication / collaboration hub, which houses a large workshop and events area, and a coffee point. This is a buzzing and colourful space that is used for large group brainstormings, presentations and internal events.
The hub is fitted with foldable glass partition walls. Depending on the occasion, the partition walls either house three additional smaller meeting rooms – which grant extra space and privacy, but being made out of glass also retain transparency – or can be opened up, creating one large event room.
The middle, blue, area is designed for agile teamwork and is focused on encouraging collaboration. Instead of having assigned individual workstations, this zone is fitted with shared sit / stand desks. The groups of workstations can be modified to suit the number of employees working on a project. Cutting-edge technology has been harnessed to support this flexibility: as teams grow, new desks can be seamlessly connected to existing workstations, which then deliver electricity and internet connections to the new desk without the need for further services to be installed. Schaeffler is the first company in Germany to use this technology.
The rear of the office, the green area, is designed for individual work – deep thinking and focused work – and also hosts a very quiet space for silent working: a 'psst' zone where talking is not permitted. In this area, a different aesthetic is in play, with a pale green colour scheme, forest imagery and tree trunk dividers designed to encourage contemplation.
Communication core
Evolution Design's solution was to create an office in which the entire space supports the design thinking approach. The company wants its employees to think out of the box, so Evolution Design created a large irregularly-shaped architectural intervention in the centre of the office – the communication core. It houses focus booths, meeting rooms and prototyping spaces and creates curvilinearconnecting spaces, adding fluidity and visual interest to an otherwise rectangular building.
Showroom
The new office does not have a traditional reception desk. Instead, the first thing that guests experience when they enter the Digital Transformation Centre is an interactive showroom where Schaeffler product presentations are run on the LED video walls and floor. The whole 360-degree experience is further enhanced by product demonstrations that involve the use of virtual reality glasses. This area offers a high-tech welcome to guests, customers and staff and generates a real sense of leading edge innovation from the first contact point.
The Aesthetics
Aesthetically, the space has a youthful and semi-industrial feel reflecting Schaeffler's digital and engineering background. In the workshop area, for example, exposed ceiling details and a polished concrete floor are softened with colourful chairs and brightly coloured walls. Colour and materials are also used to demarcate areas, with bright blue tones and the use of glass in the livelier team space contrasting with pale green forest motifs and the use of tree trunk dividers that create a feeling of calm in the quiet working space.
The Results
A staff survey shows significant improvements in morale since the office move, with staff giving overwhelmingly positive feedback around the new space. The company's design thinking approach has been facilitated and is driving innovation. It has become easier to form and manage agile teams. And the high-tech showroom is impressing customers and potential recruits alike. "With the new Digital Transformation Centre we have created a space that fully supports our working methods," says Olaf Mackert.
FACTS & FIGURES
Client
Schaeffler Digital Transformation Centre
Olaf Mackert
Erlangerstrasse 64
91074 Herzogenaurach, Germany
Completion
March 2019
Size
1.392 square meters
Design Team
Stefan Camenzind, Tanya Ruegg, Carolin Michalka,
Kate Lasikowski
Photography
Peter Wuermli
EVOLUTION DESIGN
Evolution Design is an internationally recognized Swiss architecture and design studio with offices in Zurich and London.
Acknowledged as pioneers in workplace design, Evolution Design is best known for its original workspace designs for Google, Unilever, PWC, easyCredit, Sberbank, HB Reavis, and many more.
The architecture studio has a strong focus on human-centred design, empowering people and creating spaces, which stimulate and inspire users to the highest levels of performance, creativity and innovation.
The strategic direction of the practice is set by the founder and executive director Stefan Camenzind and his partners Tanya Ruegg and Marco Noch. Together, they are the driving force behind the continuous evolution of the practice.
Evolution Design Samariterstrasse 5, Zurich 4a Godson Street, London