Skylight Allowed to Play with the Light Inside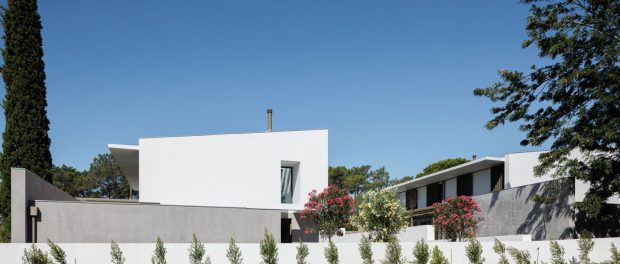 Set of villas located next to a pine forest.
The volumes develop perpendicularly to the road, facing south. They land along the natural slope of the land, the garage, with only one floor, finishes the volumetry.
The house basis begins as a wall, then surrounds the main volume and finally, again as a wall embraces the garage, giving a sense of continuity.
The first floor swings on the lower floor, detaching from it, giving a sense of lightness to the whole.
Working contrasts was an important part of the concept. The design translates the contrast between privacy and wideness, light and shadow, opacity and texture.
The blind walls, give privacy to interior spaces, opposing to large glazed windows facing south, framed by the garden.
Natural light penetrates in a controlled way through the roof, by four large skylights that illuminate the circulation spaces and through the wide windows facing south, overlooking the lawn.
The texture of the horizontal pergola, with linear elements, right angled to the facade, creates a set of shadows. These same linear elements now set vertically, make the protections of the upper windows. These shutters run along the façade, creating different compositions and shadow effects on the elevation, varying with each different position.
Concrete , stone, wood and metal , are the elements that constitute the materiality of the whole. There is always a continuity of these materials from the inside to the outside, some strategic points of view reinforce this notion.
Other images can be seen in the gallery down below

Data
Project name: Houses in the Pine Forest
Architecture Office: PK Arquitetos
Main Architect: Francisca Magalhães Ramalho
Website: www.pkarquitetos.com
E-mail: fmr@pkarquitetos.com
Instagram: @pk_arquitetos
Linkedin: linkedin.com/in/francisca-magalhães-ramalho-92255b5a/
Location: Estoril – Portugal.
Year of conclusion: 2022
Total area: 256m2
Constructor: API Construções
Engineering: ATPI Engenharia
Architectural photographer: Ivo Tavares Studio
Website: www.ivotavares.net
Facebook: www.facebook.com/ivotavaresstudio
Instagram: www.instagram.com/ivotavaresstudio