Sumu Yakushima, Regenerative Life Studio, Receives International Recognition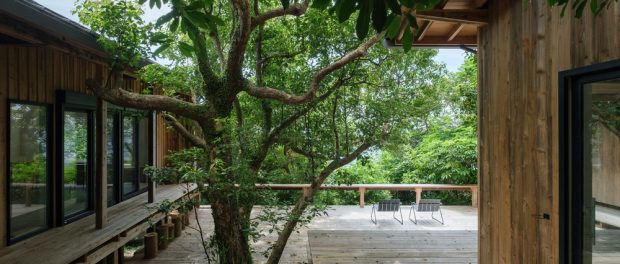 tono Inc. presents Sumu Yakushima, a design that has won 2 of the highest distinctions in the world – the iF DESIGN AWARD 2023 "GOLD" , and A+Awards "Jury Award".
Sumu was recognized for a concept of regenerative ideas. Although sustainable architecture that preserves the environment has existed in the past, it is realized in this project with the architectural idea of enriching the environment.
The jury of iF released the following statement regarding its decision to issue the Gold award:
"Taking extraordinary care not to disturb the fine balance of human and natural presence at this World Heritage site, this building abounds with subtle representations of Japanese master-craftsmanship. Like a haiku, this form reveals its depth on closer inspection."
Additionally, Sumu received the "Jury award", the highest award in the "Susutainable Private House" category of the A+Awards 2023, a category introduced for the first time this year. Winners of other architectural genres in the same category include Foster and Partners and UN studio. In addition, Sumu has won 5 other awards. (Please refer to Technical Information).
This regenerative Architecture was designed with the idea of not only reducing damage to the environment, but also changing the environment in a positive way with a view to improving it for fungi bacteria in the soil.
About Sumu Yakushima
Yakushima Island is a natural paradise in southern Japan, where abundant rainfall onto 2,000-meter peaks nurtures dense forests home to millennium-old Japanese cedars.
This innovative housing co-op applies "regenerative architecture" to re-conceptualize the relationship between human habitation and the surrounding natural environment. The name Sumu means both "to live" and "to become clear", expressing its core concept of living in a way that positively impacts the landscape. Rather than being a discrete site, the design takes a holistic view of the entire river basin, from the mountains to the sea, making a positive contribution to natural processes. It applies "regenerative architecture", a new approach developed by the designers that combines traditional Japanese civil engineering with contemporary technology.
Going beyond simply preserving nature as it is today, key considerations in the design include:
• Designing the underground environment
• Orientating buildings based on in-depth understanding of water and air flows through the landscape
• Creating an ongoing connection with nature through architecture
In addition to exploring modern applications of traditional Japanese wisdom, its features include:
• Off-grid energy from solar power, storage batteries, and local firewood
• Comfortable living spaces that leverage architectural expertise to achieve effective airtightness and insulation unlike camp-style accommodations
• Modern spaces with stylish design
A major departure from conventional nature experience facilities, Sumu encourages a wider section of society to engage in learning, with the aim of bettering our planet's future. True to its concept of making a positive impact by living among nature, Sumu residents adopt a "regenerative lifestyle" that enhances the environment through everyday activities, from collecting driftwood for use as firewood, to clearing grass to allow cool air to flow through in a way that benefits the landscape.
Sumu's design changes our relationship with nature. It enables residents to discover new possibilities for interacting with nature, and to adapt the way they think and act, thus building relationships with nature that transcend generations. If more widely applied, its unique approach has the potential to accelerate environmental initiatives.
Other images can be seen in the gallery down below

Technical data
• Project name: Sumu Yakushima
• Location: Yakushima island Kagoshima prefecture Japan
• Client: Sumu Yakushima, Moss Guide Club
• Architects/designers: Tsukasa Ono(tono Inc.)
• Collaborators: WAKUWORKS
• Engineers: Shizen energy Inc., ENERGY MACHIZUKURI-SHA INC.
• Construction company: Motchom create
• Suppliers: Arimizu sawmill companies
• Lighting Designer: Hisaki Kato
• Project completion date: May 2022
• Photographer: Rui Nishi, Hinano kimoto, Wataru Aoyama
Awards:
• iF design award 2023 gold,
• A+Awards 2023 Jury award in sustainable private house category
• A+Awards 2023 finalist in Architecture+Environment category
• ADF award 2023 encouragement award
Wood design award Japan 2022
• Interior Industry Award Japan 2022
• Kmew design award 2022
About tono Inc.
tono Inc. is a regenerative architectural design studio established by Tsukasa Ono in Yakushima, Japan. The Japanese meanings of the word "tono" are "with" and "relationship". The firm embraces that theme in designing buildings that create strong and positive relationships between nature and people. The firm proudly designs "Regenerative Architecture" that enriches the environment by leveraging the fungi and bacteria found in the soil.
Currently, tono Inc. is working on regenerative architecture projects not only in Japan, but also in Europe, Africa, South America, and other parts of the world, all focused on the goal of changing the global environment positively through their unique form of architecture.