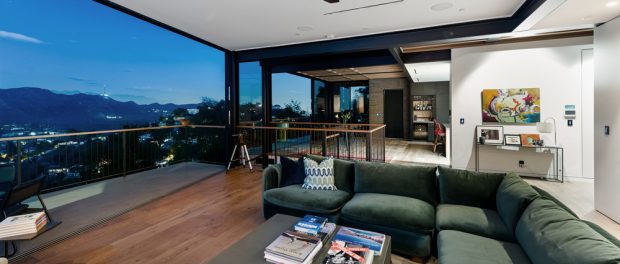 Aaron Neubert Architects presents t House, a residence for a young family perched atop Los Angeles' Hollywood Hills, offering commanding views of the San Fernando Valley, Griffith Park, and the iconic Hollywood Sign. This biophilic residence sublimely blends with its bucolic surroundings, cleverly adhering to strict hillside regulations, while proposing an innovative model for Southern California hillside developments.
Gracefully cascading down the steep terrain from the south, the home creates an inviting entry courtyard through the strategic separation from the adjacent slope, featuring descending terraced gardens that lead visitors to the glass-enclosed foyer. Upon entry, a vertical slot window unveils a striking three-story-high view perfectly aligned with Barham Boulevard to the north, forging a seamless connection between earth and sky. Complementing this vertical window system are telescoping glass doors spanning the width of the house, capturing a panoramic horizontal view of the nearby mountains. This novel "t" spatial configuration not only shapes the home's layout, but also ensures an uninterrupted flow of awe-inspiring views throughout, extending to the pool area and distant landscape.
Visually and aurally connected, the three levels of the home are united by the vertical slot window and adjacent void, crowned by a transom window on the south-facing roof and a stairwell leading to the pool level on the north. The middle level comprises porous, semi-autonomous spaces, housing the entry, living room, kitchen, dining room, lounge, and office. On the lower level, a guest suite and a semi-enclosed entertainment area open up to the pool, terrace, and lawn, creating an ideal space for relaxation and socializing. The upper level accommodates bedrooms, laundry, and the garage, providing practical functionality for everyday living.
Externally, the house is clad in sustainably sourced charcoal-stained cedar siding and hand-pressed terracotta bricks, creating a natural and warm material palette that harmoniously blends the architecture with its environment. Over time, the materials will gracefully weather, further enhancing their integration with the natural surroundings. Inside, the design features exposed Douglas fir beams, wide-plank oak and natural limestone flooring, plaster walls, rift-sawn oak cabinetry, and dark bronze-finished windows and interior railings.
With a firm commitment to environmental consciousness, the t House harmonizes thoughtfully with the surrounding landscape, while embracing sustainable principles in every aspect of its construction and operation. The residence showcases a carefully curated selection of drought-tolerant plants, well-suited to the region's arid climate, effectively minimizing water consumption and promoting local biodiversity. Sustainable materials and elements not only enhance the home's aesthetics, but also minimize its ecological footprint. Through the integration of a rainwater harvesting system, the project efficiently conserves water resources, collecting and storing rainwater for irrigation and non-potable use. These eco-conscious efforts underscore the design's commitment to sustainable living, serving as an exemplar of how thoughtful design and responsible choices can coexist in harmony with nature.
Moreover, the t House serves as a compelling model for responsible hillside developments in Southern California, offering its inhabitants an exceptional blend of contemporary design and a profound connection with the natural world—a truly inviting retreat that reflects a genuine appreciation for the environment.
Other images can be seen in the gallery down below

Project Name: t House
Location: Los Angeles, CA
Architect: ANX / Aaron Neubert Architects
Interiors: ANX / Aaron Neubert Architects
Landscape: LPO
Structural Engineers: Craig Phillips Engineering
MEP Engineer: Hariton Engineering
Civil Engineer: Peter Shirley Engineering
General Contractor: Providence Construction
Photographer: Paul Vu/HANA
About Aaron Neubert Architects
Founded in 2006, Aaron Neubert Architects is a design practice committed to orchestrating poetic relationships between landscape, light, and materiality, resulting in beautifully crafted spaces that amplify the human experience and advance stewardship of the natural environment.
Led by Aaron Neubert, FAIA, the Los Angeles-based practice has produced a diverse portfolio of sustainable, site-specific work that spans private residences, housing, hotels and restaurants, commercial programs, and institutional facilities. The practice's inventive formal and site resiliency strategies preserve delicate and complex ecologies, while improving the wellness of the community.