The Lure of the Land Inspires William Duff Architects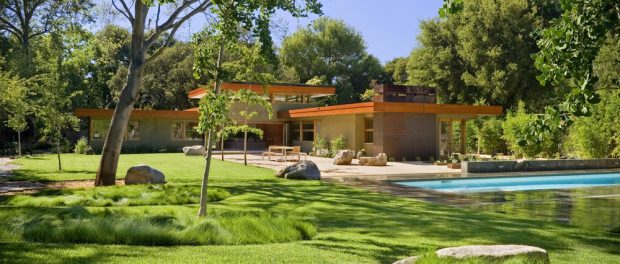 William Duff Architects (WDA) is sought-after by discerning residential clients attracted to the firm's well-honed design philosophy of creating a unique sense of place. "For our residential clients, the lure of the land—whether an urban lot, a suburban parcel or rural acreage—is personal," observes WDA residential practice leader, Jim Westover, AIA, LEED AP. He continues, "Our architectural and design response is always in harmony with the land and reinforces the connection between people and nature."
Highlights of WDA's residential portfolio include the following commissions:
Butterfly House – Childhood memories of courtyard houses in India and the vernacular architecture of Ireland inspired a mixed-heritage couple's creative wish-list for this suburban residence. Elaborating on the design concept, WDA founder William Duff says, "The big gesture is the courtyard, which fosters a sense of community, and we maximized the relationship to the land through landscaping to create a feeling of expansiveness."
Golden Oak Residence – Set on bucolic land with sweeping views of the San Francisco Peninsula, this house was designed as a place for retreat and rejuvenation, and William Duff adds, "Through architecture and design, we created an integrated experience that echoes the natural beauty of the hilltop site."
Wheeler Residence – Designed and built to reflect the homeowners' commitment to sustainability, this house was inspired by the husband's childhood memories of living in Colorado. William Duff, who also grew up in Colorado, and understands the state's outdoor appeal, notes, "For this commission, we sought to capture the essence of a mountainous state like Colorado and all that it has to offer—nature, vistas and a seemingly never-ending big sky."
For Jim Westover, whose versatile career in architecture began at the College of Environmental Design at University of California at Berkeley, WDA's wide-ranging portfolio is, ultimately, all about people. He notes, "Our residential commissions blend profound emotional connections, sometimes lasting a lifetime, to places rooted in the land."
About William Duff Architects (WDA) @wdarch_inc
Founded in 1998 and located in San Francisco, WDA finds inspiration in both the talented people who live and work in San Francisco and the region's embrace of sustainability. The firm's commitment to a culture that fosters curiosity, collaboration, and innovation drives its success in projects across its residential, retail, and commercial practices. WDA is proud to be among the region's "Best Places to Work," as recognized by the San Francisco Business Times.
William S. Duff, Jr., AIA, founded WDA in 1998 based on his belief that architecture can shape environments and improve communities. He also believes that personal service strengthens ties to one's neighborhoods and communities.
His pro bono work as past President of the Board of Directors of Young Audiences of Northern California and past President of the Board of Directors of Napa's diRosa Center for Contemporary Art reflects his commitment to championing art as a way to reflect values of access, diversity and inclusion.
William received his Bachelor of Architecture from Cornell University and his Master in Construction Management from Colorado State University. In addition to NCARB and LEED certifications, William holds architecture licenses in five states (CA, CO, AZ, OR, WI). He is a member of the American Institute of Architects, the U.S. Green Building Council, and has served on the Marina Del Rey Design Control Board.
Jim Westover provides direct oversight for WDA's residential practice, as partner and principal. With a Bachelor of Architecture from the University of California at Berkeley, Jim is a California state licensed architect, a LEED accredited professional and has over 30 years of experience in architecture and interiors.
Prior to joining WDA, Jim had his own practice focusing on residential projects, preceded by 17 years as an associate and senior project manager at FME Architecture + Design in San Francisco, where he managed a variety of projects, including corporate campuses, churches, schools, gymnasiums, and private residences. For seven years, he served as the pro bono Project Architect for the renovation of San Francisco's Lincoln Park Steps.