The Medijavanean House: When Mediterranian Revival meets Traditional Javanese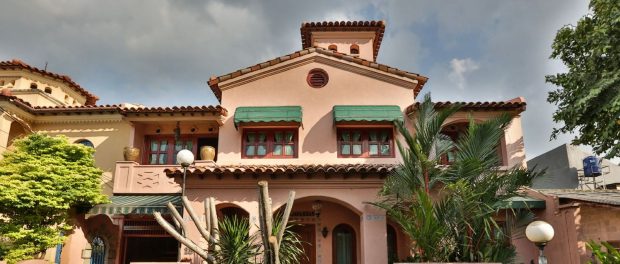 The Medijavanen is a combination of two architectural styles: Mediterranian revival and traditional Javanese architecture. The architect of the house, Shonny Archaul, initiated the architectural style. It brings a distinct and new look to a comfortable and homey atmosphere.
The low-angle hip roof, limasan in Javanese, is a noticeable feature of the facade. Inside, the spacious interior with an open ceiling provides excellent air circulation. The coconut timber of the exposed ceiling joists conveys an organic look in the house. The exposed brick walls and the stone-based ceramic tile flooring also provide a natural appearance for the interior.
The Mediterranean aesthetic influences the roof design: curved terracotta tiles with rococo-inspired details. The texture of the walls is also rough and has natural paint colors.
The open floor plan unites the living room, the family room, and the dining room. Meanwhile, we can also see the traditional Javanese architecture in the front door with gebyok—a wooden door with traditional Javanese carvings. The interior also has many Javanese elements in the furniture, shelves, and lamps.
The second floor has a living room, three bedrooms, and a bathroom. The Javanese furniture is also apparent here. Meanwhile, the Mediterranean revival architecture influences the shape and flooring of the staircase.
Various decorative plants decorate the backyard. The architect also applied several Javanese ornaments in the garden. Meanwhile, a set of benches and a koi pond bring a serene and comfortable ambiance.
Other images can be seen in the gallery down below
About Medijavanean
The architect initiated the Medijavanean architectural style for the house to elevate several functions: living, recreations, or meeting with colleagues. There are also considerations of three fundamental aspects of the house—safety, well-being, and comfort.
The Medijavanean architectural style can be an appropriate choice for houses in hot and humid climates. Cross ventilation is possible with a proportional ceiling to maximize the air circulation. Moreover, it also allows more natural light. The union of elements from the east (Javanese) and the west (Mediterranean) also bring a distinctive experience.
The structure finishing is rough and rustic, appearing more distinct from its surroundings. The columns and arches also exude a sturdy and warm atmosphere.
Architect: Ir Shonny Archaul
Location: Bintaro, Tangerang Selatan, Banten
Land area: 200 m2
E-mail: shonnyarc@gmail.com
Web: www.medijavanean.com
Instagram: https://www.instagram.com/medijavanean.official/
Address: Komp Pd Jaya Jl Paku D4 / 18 Bintaro Jaya 5 Tangsel Banten
Telp 0816792889