The New Look of BLANCO Indonesia – Destination for Kitchen Enthusiasts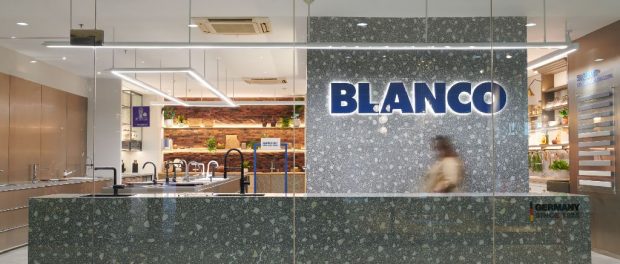 Located on the 7th Floor of Jakarta Design Centre, the new look of BLANCO Indonesia showroom has its own story to tell. Officially opened in February 2022, the showroom is owned and managed by CV. Tranindo Sejahtera, the sole distributor of BLANCO Germany in Indonesia for more than 34 years.
Kitchen has become a central point in our homes and a reflection of our lifestyle. And sink is an integral part of the daily kitchen routine. BLANCO has always been the market leader in the kitchen world, its patented SILGRANIT sinks are admired around the world with more than their 300 exclusive styles and designer colour palette.
"With such a wide assortment of styles, configurations, colours and sizes in BLANCO, we want customer to experience how BLANCO sink fits in different kitchen designs. We created 6 different kitchen stylesso customer can get inspirations when planning for their new kitchen." Sugandi Santoso, CV Tranindo Sejahtera director, says.
"Indonesia is a very important market in Asia Pacific and BLANCO is the first one to introduce composite sink namely our SILGRANIT into this market. We want to make sure that our customer will enjoy their time and be inspired when they come and visit our BLANCO showcases. Not only to see the sink but also on how to select the right choice of materials for their kitchen." Hans Nasemann, Managing Director BLANCO Asia Pacific added.
As you enter the showroom, you will be greeted by a bold look of grey terrazzo which hosted a various display of BLANCO sinks, mixer taps and kitchen accessories. Going in further, you will get inspiration from various kitchen design, starting from a bold minimalist industrial kitchen, traditional Indonesian kitchen, transitional kitchen, Scandinavian kitchen, Farmhouse Style kitchen and Modern French kitchen.
Each of the kitchen is designed with a great details, Santi and Hamphrey of Domisilium Studio chose and combined materials from different parts of the world and archipelago to bring out characters on each of the kitchen.
Wood, tiles, stone and other natural materials create a cosy look in the kitchen. Well-designed details and high-tech features that offer maximum convenience are hugely popular when it comes to functional equipment to assist cooking. For those who love the modern country-house look, Blanco has a particularly charming and contemporary Silgranit sink among its range: BLANCO Vintera features a design that interprets distinctive elements of the country-house style in an elegant new way.
The farmhouse kitchen sections in this new showroom displays one of the latest products of BLANCO Vintera which earned a 2021 Red Dot Award and 2021 iF Design Award. BLANCO Vintera is displayed in a "BLANCO UNIT" setup.
A BLANCO UNIT is a seamless, fully integrated, kitchen water hub solution designed to make everyday life in the kitchen easier. The combination of a BLANCO sink, faucet, waste organization system and accessories streamline the workflow in your kitchen to transform chores into joyful experiences. You can access your water, prep your food, and clean your kitchen at the same spot. All six kitchen styles display different type of BLANCO UNIT installation to accommodate different size and type of kitchen designs.
The newly renovated BLANCO Indonesia showroom by Tranindo Sejahtera is undoubtedly the place to go to for kitchen enthusiast seeking for inspiration for they dream kitchen. This showroom is designed to delight consumers with everyday convenience and benefits when it comes to drinking water, preparing food and cleaning.
Project Data
Project Name: BLANCO Indonesia (@blancoindonesia.official)
Location: Jakarta Design Center Lt.7 – SR17, Gatot Subroto Kav.53, Jakarta 10260
Floor Area: 115 sqm
Photographer: Leo Kusnadi (@leoandhisworks)
Completed: February 2022
About BLANCO
BLANCO is all about residential kitchen water hub systems that are meticulously designed down to the finest detail. The brand has won over consumers worldwide with its modern design, ergonomic handling and reliable product quality. All components, from the kitchen faucet to the sink and accessories, are perfectly integrated with one another. BLANCO systems make a significant contribution towards sustainably upgrading kitchens around the globe with everyday convenience when it comes to preparing food, drinking and cleaning.
With BLANCO, even kitchen chores turn out to be sources of joyful moments. BLANCO is the premium brand for the well-thought-out kitchen water place in private homes. At its core, the BLANCO UNIT is based on three founding pillars: »Drink.Prep.Clean.« and it is characterized by a wide array of seamless combinations of sinks, high-end mixer taps, water optimization, filtration, cooling and complementary accessories – from the soap dispenser down to the food waste disposer. This range of functions as well as the design, color and material options make it easy for every kitchen lover to find the perfectly customized UNIT at BLANCO.
Founded over 95 years ago, the company is now an international prestigious premium brand for the kitchen water place. With subsidiaries in Europe, North America and APAC, plus its trading partners, BLANCO has a presence in about 100 countries all over the world and offers its customers a portfolio that is perfectly tailored to consumer needs. The company headquarters and key production sites are in south-west Germany.
Founded in 1925 by Heinrich Blanc, today BLANCO is part of BLANC & FISCHER Family Holding and has won multiple employer awards.
CV Tranindo Sejahtera has been proudly distributing BLANCO products for the Indonesian market for over 34 years.