The Space that Reflects the Life of A Unique Urban Family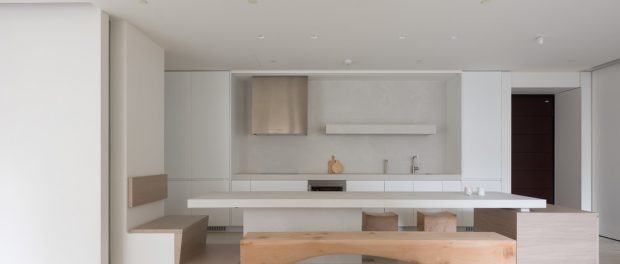 This is an atypical home. It is a space that reflects the life of a unique urban family in its current stage. The entire area of 90m² is completely open, with hidden cabinets and a strip of deep-recessed windows surrounded on four sides. At the center, a 3.5-meter countertop is the anchor of the space, serving as a multi-functional table. The recessed windows receive constant northern-light by day, and transition into private sleeping quarters when closed at night. The sanitary space and its components are a play of geometrical volume and framed-view composition. The countertop and furniture, with their abstract appearance, resemble stone slab, woodblock, and clay. The architects treated them as sculptural pieces within the space. There is no definite spatial division within the space.
The owner is a young couple with a young child and a newborn. Their wish was to have a home that is free of the norm, and is defined by their notion of how they wish to live. This is an excerpt of the brief they presented to the architects:
"At this stage of our lives, spaces for sleeping, seating, eating, and sanitary activities can be stripped down to the bare essentials. We wish to have more space for our children to run freely, as well as to have a large table that everyone can gather around to spend time together. If possible, we wish to live in a modern gallery of sorts; simple, calm, and filled with light, in which the spaces are left to the imagination as we fill them with life for the years to come."
Other photos can be seen in the gallery down below:
Project Data
Project: KOA Apartment
Location: Taipei, Taiwan
Completion: 2020
Design Firm: Marty Chou Architecture
Photography: Kyle Yu Photography
About Marty Chou Architecture
Marty Chou received his Bachelor of Architecture from the University of Toronto, Canada in 2002, and a Master of Science in Advanced Architectural Design from Columbia University, New York, USA in 2005. Since 2016, he has been teaching architecture design at NTUT in Taipei, Taiwan.
Marty Chou Architecture was founded in 2013, and has since been dedicated to the pursuit of art of clarity and the beauty of simplicity in architecture. Works have been published in an array of international media and have received awards including the 2018 WIN Award, 2020 A' Design Award, 2017 / 2020 / 2021 TID Award, and 2021 Architizer A+ Award Popular Choice Winner.