Tribute to a Victorian House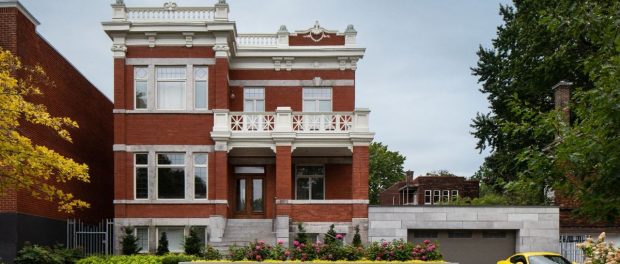 Owning a century-old house is a commitment. A commitment to enhance its essence, its forms, its materials, its standards of the time. Out of respect for its historical character, this Victorian house has become, under the pencil strokes of FOR. a perfect balance between a restoration and an enhancement of the past by contemporary interventions.
First of all, the modern life needs had to be implanted in the original layout. The kitchen bore the scars of a time when the owners did not pay much attention to it. Today, it has become the lung of the house, where we receive and cultivate culinary art and love of sharing. Thus FOR. has created a new horizontal window and openings on the terrace and the dinette, facilitating the circulation and gathering the guests in a luminous and harmonious area. A breakfast/coffee station is hidden behind an integrated storage, one of the many minimalist interventions that draw attention to the heritage details of the residence, such as the woodwork, the plaster mouldings and the flooring. Disappeared through numerous renovations, they all have been restored or reproduced as it was originally done in 1911.
The powder room, a contemporary bubble, offers a contrasting experience from the first floor. You find yourself in a different, soothing place. The lack of detail actually hides details that are difficult to achieve, such as the floor and wall, composed solely of four porcelain slabs, disappearing under two gypsum walls.
The new landscaping, simple and minimal, still highlights the architectural beauty of the house, in the same spirit of the terrace's project realized in 2010. A pedestal made of St-Mark limestone, identical to the original material used, places the Victorian work on its base. Wide landings towards the parking lot integrate lighting and planters, and provide a comfortable, safe, ergonomic and proportional access to the imposing façade.
But before being a restoration and heritage enhancement project, this residence is above all the culmination of a long business relationship of more than 30 years with the client. And it is this special relationship, this stakeholder commitment that has made this project exciting, vibrant and purely personal.
About FOR. design planning
http://www.fordesignplanning.com/en
FOR. design planning is an interior design firm specializing in corporate, high-end residential, commercial and multi-unit residential projects. Since 1969, it has designed more than 20 million square feet of interiors in Canada and internationally.