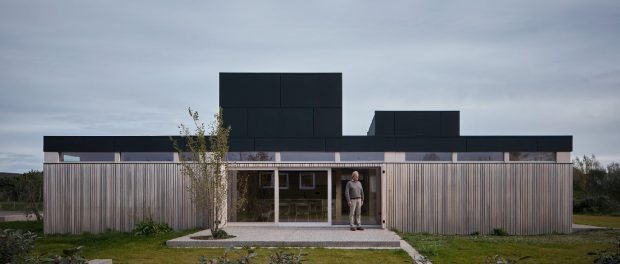 Designing a healing and restorative facility like a Maggie centre is an honour for any architect. Many architects have designed Maggie centres before such as Gehry, Zaha Hadid, Rem Koolhaas and many more, it was inevitable to do research on what was designed before. Seeing this project as a snapshot in the long list of initiatives to support truly restorative design, one piece to contribute to the honourable path of creating healthy and healing environments.
The AZ-Zeno hospital is the client and was in touch with the Maggie care organisation. They were inspired by the Maggie care philosophy and make this the first Maggie care inspired facility in Belgium.
"In 1995, the founder Maggie Keswick Jencks, wrote this about her experience of cancer:
"A diagnosis of cancer hits you like a punch in the stomach…No road. No compass. No map. No training…At one time, I could not sit, or lie, or stand, listen or speak coherently because my shattered mind vibrated so violently through my body I felt I might disintegrate."
Over the course of seven years, Maggie experienced cancer diagnosis, treatment, remission and recurrence. During that time, she took the insight and experience she had gained and transformed it into a pioneering approach to cancer care." (Maggie's Architecture and Landscape brief)
When Martin, Michiel and Viktor from Ark-shelter started to work together with me, Menno, it was to focus on the users. Applying UX Principles to the design process and understanding the human from a biological and neuroscience perspective. Finding a way to design a kind of "brain healthy spaces". Taking into account academic research from John Paul Eberhard, Juhanni Pallasmaa, Eve Edelstein, Ulrich, Kaplan & Kaplan and many more. Who am I as a user of this space, what are my physical, physiological, psychological and social needs and peel down the structure to moments. Moments of delight, comfort, support or sadness. Through an understanding of what the (medical) journey could be, whatever the outcome would be. The challenge was to make a space that allows for all these different emotional touchpoints in this journey for the patients as well as their loved ones.
The concept was around the idea of "a warm nest", a space to come together, a welcoming space, not intrusive nor invasive. Focusing on calm gatherings, time to reflect, relax, regain strength, get together with loved ones, embark the journey to recovery in peace.
A soft ramp will guide you into the Centre, a front door is set back from the facade to protect from wind, provide a safe entrance and remove the hospital look and feel. The building throughout can breath and is penetrated by nature and views. Almost every seat has direct visual access to the outside. The windows on the top will ensure there is always gradual light throughout the building yet providing privacy.
A mixture of direct and indirect views will allow different individuals to find different comfortable nooks where they can be themselves. Different spaces will allow for different individuals, different stages, and different group configurations to all be comfortable.
There is a warm fireplace to bring people together, to bring warmth and comfort. Flexible seating arrangements for comfortable gatherings from single to groups of 8 can easily fit in this space. The dining room is the heart of the house. The place with the most light, allowing for a space to gather for introverts as well as extroverts, sun and shade, view outside, or into the comfortable courtyard. Protected yet not enclosed.
Directly accessible from the entrance there is an office space, for administrative tasks as well as formal matters that need to be taken care of by the volunteers. Therapy room I is wheelchair accessible, all therapy rooms are welcoming, the same light wood as used in the rest of the building to give it a warm and homely feel. Non-traditional therapy room setup following the same design language as the library, living room and office. Making it less clinical and more approachable. The therapy rooms upstairs are a bit further away from the core of the house. No hallways, no names on the doors. Comfortable spaces to get the right information, treatment or consultation you need.
The group therapy room is open and adjustable, from group sessions on the floor to more formal settings, this room can be used entirely based upon the required setting. In all terms, showered with light, this room has a sunroof to make the space feel open and make it easier for people to connect. The terrace is sheltered with a wall of wood in the language of the building protecting from the wind or views. Providing safety and privacy or to enjoy a moment of air, a breath or peace. Direct access to the courtyard will make this a comfortable space to retire for a moment alone, or gather in the open air.
The courtyard, a serene and calm slice of nature, lavish green, protection from wind. The play of light that this skylight will provide will transform the space throughout the day and throughout the seasons, from warming colours to bright patches the wood will reflect the light and warm up the space. Therapy under the sky all on a journey under the same sun, to be comforted and hugged by a ray of light. After all, a place to come, to relax, to be safe, a warm nest.
Lastly, on a more personal review, the topic of sustainability is important to highlight. I want to address a different angle on sustainability in this concept. I am not going to point out the obvious emphasis on wood and other construction materials or the fact that a lot can be prefabricated and increase the onsite operational efficiency. What I want to focus on is real sustainability. Sustainability is about conscious decisions that don't impact future generations negatively. We all know that buildings impact us, for better and for worse. In certain spaces we will have a slightly higher heart rate, an elevated level of cortisol or dopamine. The reverberation time of the sound can make me feel comfortable to share in a social setting, feel comforted, like a warm blanket around my shoulders. The key to this building is the understanding of true sustainability. Building a building that doesn't have a negative impact, and even can be restorative, to give better health to future users and generations. That is a truly sustainable building for life.
(Menno Cramer, neuro-scientist consultant)
Architectural Solution
A beautiful notion calling for architecture which makes it come to life. We fully respected our task: to create a safe space for patients dealing with challenging diagnoses who need a lot of mental well-being and calmness. Our main guidance was the cooperation with a psychologist and architect who has been interested in the influence of space on the human consciousness for a long time. Before the first proposals, we led many long discussions about different levels of intimacy for each room. It was a compound process which in its end helped us to create a special story for each of the rooms and we hope that soon after the realization it will gain the right atmosphere. The most essential step was to understand what each space needs and how future patients should feel there. This process was not short. However, each room was given a story and we hope that soon after the realization it will gain its desired atmosphere. We are looking forward to the feedback from the patients and doctors using this space. Soon after the realization, our principle was verified.
The whole process of construction ran smoothly by using our modular concept from Ark-shelters, but this time from uniform modules of 4 x 6 meters which together created a strict and rational grid. However, from the patient's point of view, its movement is fluid and organic. The overall movement in the building oscillates between two translucent atriums, which were created by omitting the internal modules of this twelve-position grid. Subsequently, we moved these two modules to a higher level, which achieves a new level of intimacy and the dialogue remains only between the patient and the doctor, under the open sky.
Other images can be seen in the gallery down below

Project name: Warm Nest
Studio: Ark-shelter ARCHEKTA
Author: Viktor Mikovčák, Martin Mikovčák, Michiel De Backer
Design team: Radovan Hnidka, Ondrej Vavro, Milan Ščury, Monika Balalová, Barbora Šimašková
Project location: Kalvekeetdijk 260, 8300 Knokke-Heist
Project country: Belgium
Project year: 2020
Completion year: 2021
Built-up area: 251 m²
Gross floor area: 337 m²
Usable floor area: 290 m²
Plot size: 650 m²
Dimensions: 18 x 16 x 6 m
Cost: 750 000 €
Client: AZ Zeno Campus, Knokke-Heist
Photographer: BoysPlayNice
Collaborator: Neuro-scientist consultant: Menno Cramer
Material
internal lining – Iw Trend spruce bio panel + bleaching technology
external facade cladding – thermo wood
horizontal surfaces + furniture – lacquered oak + beige finish
roof – Fatrafol, high quality PVC
skeleton – cross-laminated timber frame structure patented on Ark-shelter company
About studio
Ark-shelter
ARCHEKTA
Architects Martin Mikovčák (*1992 in Čadca, completion of studies in 2017 at FA STU, in 2019 at VŠVU) and Michiel De Backer (*1991 in Bruges) began their cooperation at the KU Leuven´s Faculty of Architecture in Ghent. In 2015, they jointly established an atelier and a workshop for modular buildings called Ark-shelter and built their first prototype. "The construction of models has grown to a scale of 1:1, which allows us to be in control up to the final handover of the project." Since then, Ark-shelter has realized around 300 different modules scattered all over Europe. They have also been awarded with: Student Entrepreneur of the year 2016 UNIZO Belgium, Birdhouse scale up competition 2017, CE ZA AR 2019, RED DOT design award 2020, BIG SEE architecture award 2022, and others together with Viktor Mikovčák (*1997 in Čadca, completion of studies in 2021 at FA STU), who has been continuously involved in the cooperation. Currently, Viktor alternatively figures in both Ark-shelter and in his atelier Archekta, with its very own tradition that stretches back to 1991, when founded by Stanislav Mikovčák (his father). Nowadays, all three of them, Martin, Michiel, and Viktor, together with their team design and implement with the Ark-shelter modular system different buildings for various uses, from recreational shelters in forests and floating restaurants to administrative or community centers composed of several modules. What they try to present is the modular architecture in the position of a tool capable of respecting both the genius loci of the place and the essence of the biological-sensory experience of the space by the users.