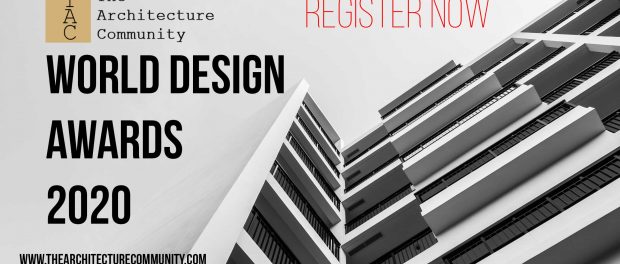 The Architecture Community is pleased to announce its World Design Awards 2020, Architecture Competition inviting all architects, students, engineers, designers, and artists from around to participate.
The Architecture Community is pleased to invite to participate from around the globe to take part in the World Design Awards 2020.
The Architecture Community's Past Winners D Lab/Global Interiors Group, DNA BARCELONA ARCHITECTS, Boytorun Architects, ARCHPOINT, Elips Tasarım Architecture, EDDA Architecture, Leonardo Bachiega Arquitetos, Saffar Studio, Nanometer Architecture, Unit0 Saigon, AP Szczepaniak, Studio Takuya Hosokai, Franca Arquitectura, Coelacanth and Associates, and many more.
The awards will be having the following categories:
Architecture
Commercial | Cultural | Sports & Recreation |Residential |Office Building |Institutional Building | Hospitality |Mixed Use | Pop-Ups & temporary | Landscape Design |Urban Design and more…
Transportation
Bridge | Bus Stand | Airport | Railway Station | Subway | Tunnel | Highway | Port | Metro Station
Interior Design
Residential Interior | Public Building Interior | Commercial Interior | Corporate Interior
Product Design
Households | Lifestyle & Accessories| Interior Design Elements
Artist | Designers
Art & Craft | Graphic Design | 3D Design | Animation
The World Design Awards 2020 is one of the world's most prestigious awards for high-rise architecture. It recognizes outstanding ideas that redefine Architecture design through the implementation of novel technologies, materials, programs, aesthetics, and spatial organizations along with studies on globalization, flexibility, adaptability, and the digital revolution. It is a forum that examines the relationship between the Architecture and the natural world, the Architecture and the community, and the Architects and the city.
Register Here.
Submission requirements:
1. Maximum 4 images of project.
2. A3 size sheets (420mm X 297mm), in horizontal format and submitted as digital colored high-resolution files meant for printing in JPEG format.
3. Project About in Docs format in about 500 to 700 words.
4. Submission sent do not exceed maximum of 20Mb in zip file.
5. Unlimited Projects in multiple categories.
6. No restrictions in built, concept and projects making date.
World Design Awards 2020 will be judged by two stellar panels: one for design, the other for architecture. Each of the panels will be compiled of industry experts who will use their insight and experience to deliberate the results.
The Design panel will be looking for: fresh thinking and originality, beautiful execution, great storytelling, work that pushes and progresses the client brief beyond expectations, work which emotionally connects with its people.
The Architecture panel will be hoping to see: work that is programmatically, formally and spatially rich, design that pushes boundaries, projects that address issues of sustainability a people focused, client driven approach.
The reputable judges will nominate 3 finalists within each award category. The winners of the World Design Awards 2020 will be selected by honorable jury members. Winners will get a winner kit (Certificate and winner's poster) Award will publish on The Architecture Community's website and our media partner's website.
World Design Awards 2020 Schedule:
Registrations Begins From 1st June, 2019
Registrations End 30th January, 2020
Submission Deadline by 20th February, 2020
Results – 20th April, 2020
Submission Fee:
Early – 1st June to 1st July 2019
$75
Standard – 2nd July to 30th November 2019
$100
Late – 1st December 2019 to 30th January 2020
$175
Competition Info: 
Category: Architecture Awards
Organizer: The Architecture Community
Who can enter?
World Design Awards 2020 is open to all architects, students, engineers, designers, and artists from around the globe.
Prize: 
World Design Awards 2020 deliver unprecedented exposure for our finalists and winners.
Participate here: http://www.thearchitecturecommunity.com/registration-form/
Our Jury Members
Sven Shockey
(SmithGroup)
Esra Akcan
(Associate Professor, Director of Cornell Institute for European Studies)
Zain Abuseir
Lecturer in Architecture (University of Michigan)
Randy Guillot
FAIA, LEED® AP
Health and Wellness Leader, Design Director, Principal (Gensler)
World Design Awards 2020 to view more jury members kindly visit here:
http://www.thearchitecturecommunity.com/wd-awards-jury-2020/
Official website: For all further information about the World Design Awards 2020 or to submit your works visit the following official website: www.thearchitecturecommunity.com
Go to learn more: http://www.thearchitecturecommunity.com/world-design-awards-2020/