Zain Tower by AQSO arquitectos office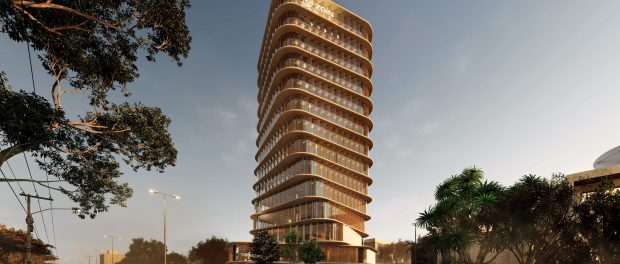 This tower housing the Zain headquarters in the Sudanese capital rises above the city, cutting a slender symbolic figure over the skyline. The monolithic structure gradually twists as it grows in a distinct gesture contrasting with the surrounding cityscape. Like a watchtower, the building domains the horizon expressing its communicative nature and becoming an urban landmark.
The Zain tower is located on the 15th street of the Al Amarat district, a renowned residential area in central Khartoum close to the airport, surrounded by restaurants, hotels and number of embassies.
The building breaks the regular rhythm of the urban fabric, arranged in a fixed grid, by introducing a diagonal cut to the corner of the plot and providing space for a public plaza. This welcoming gesture at ground floor level generates an upward movement that defines the shape of the building, twisted to re-align itself with the urban fabric at the top.
The resulting form defines a generous podium at the bottom for the telecommunications company flagship store and twelve floors of offices above for its headquarters, which enjoy extraordinary city views.
The typical floorplan of the tower is a simple square of twenty by twenty meters intersected only by the central core containing the lifts and the staircase, circumscribed in the centre of each rotated slab. The open plan allows a versatile distribution of the space, enclosed by the orthogonal facade glass walls.
The building facade is defined by the prominent floor slabs, extending over the glazing envelope to become protective brise-soleils. A series of semi-transparent laminated glass louvres offer a second layer of protection, enhancing the dynamism of the tower when the sun hits this multifaceted skin.
This multilayered facade system protects the building from the hot semi-arid climate of Khartoum. The envelope offers a transparent appearance but responds adequately to intense sunlight, high temperatures and frequent sandstorms.
The slab edge is protected with a series of modular glass-fibre reinforced concrete pieces with a subtle warm aggregate finish. The fixed glass louvres are arranged at the correct angles and distances to provide the best thermal performance of the envelope. To increase their efficiency, each piece count with a decorative brass mesh with delicate arabesque motifs sandwiched between the two layers of glass, also including a protective solar coating.
The interior finishes provide a luminous and minimalistic design featuring white textured walls, polished concrete floors and a plastered suspended ceiling with soft edges.
The structural system of the tower relies on its central reinforced concrete core and a group of eight circular columns around it supporting the square concrete slab with cantilevered corners. This regular arrangement provides a robust structural skeleton that takes on the exponential rotation experienced by the floors at each level.
This distinctive 48-metre-high office tower carefully balances cost-effectiveness and flexibility, is designed to naturally reduce energy consumption, and yet is responsive to the hot desert climate.
Architect
AQSO arquitectos office
Madrid +34917710294 | London +442036270619 | New york +19293901916
www.aqso.net
Luis Aguirre
Razvan Brezoianu
Diego Linares
Jesús Ramos
Andrés Fernández
Location: Khartoum, Sudan
GFA: 4990 sqm
Client: Zain Sudan
AoR: Iskan