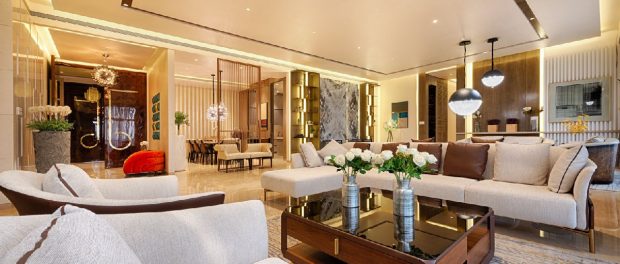 The Client being is a developer by profession and wanted to get design interiors that reflect his relishing and personality. A free hand design, cull and execution by the client to designer allowed creating an individual amiable interior for each room.
A neo-classical design approach with the utilization of contemporary materials and products along with natural light and ventilation makes an impeccable living to an individual. The designing of 4600 square feet of high-end residential interiors was done keeping in mind of the client and reflection of his/her personality.
In the entrance lobby the distorted image of marble cladding engenders an illusion of galaxy form which invites the individual with a grace of elegance. The Vestibule here is a rectangular space with vibrant color motifs and wall frames along with orange and out resemblance an element of surface.
The living room space divided into functionality allowing the formation of rectangular forms with in the spaces. Formal informal, library sit-out, engenders the space with simplicity and elegance.
The dining room is designed to have a steel jail dividing the area and the fluted wall abaft the dining table energizes the space. A good composition of artifacts with paintings and furniture gives a cozy environment.
An island kitchen with chandler engenders a dining form with in the space. Designed of cut out within the cabinet makes a relief work with artifacts within and also breaks the monotony.
The first bedroom is designed to have a neo-classical forms with white background paneling along with vibrant artifacts and furniture which adheres to elegance with in.
An open out concept toilet with jail in juxtaposition to the bathtub diving the space to engender a form to give privacy and soothing feel.
The Second bedroom feel creating a different furniture pieces like console, artifacts and marble cladding make the form of proportions.
The utilization of lighting automation, LED fixtures, VRF air conditioners, insulated glass, S.S pipes for plumbing and panels was done.
Overall the simplicity with vibrancy makes a perfect living designed by Architect Bhavik Shah.
Project details
4600 sqft of 5bhk residential interiors.
Ceiling ht 3.9m clear.
Living room attach with 2m wide deck.
2 master bedroom attach with 1.2m wide deck.
Large sliding window for natural light and ventilation plenty of
VRF air conditions system for saving of electricity.
S plumbing for toilets to avoid corrosion.
Automatic for lighting, AC, curtain, audio and video.
Project Name – 9 CRYSTAL -Residential Premises
Location – Ghatkopar, Mumbai.
Carpet  Area – 4600 sqft.
Architect / Interior Firm Name – ENCLOSURRE
Principal Architect – BHAVIK K SHAH
Design Team – Avni Ganatra
Sanjay More
Photo Credit – Gaurav Rao
Civil Contractor – Pandit and associates
Year of Completition – 2019
ENCLOSURRE
ENCLOSURRE 𝗂𝗌 𝖺n 20 years old  architectural and interior 𝖽𝖾𝗌𝗂𝗀𝗇 𝖿𝗂𝗋𝗆 𝖻𝖺𝗌𝖾𝖽 𝗂𝗇 Mumbai, 𝖿𝗈𝗎𝗇𝖽𝖾𝖽 𝖻𝗒 Ar Bhavik Shah 𝗂𝗇 2000 𝗍𝗈 𝗍𝖺𝗉 𝗂𝗇𝗍𝗈 𝗍𝗁𝖾 𝗀𝗋𝗈𝗐𝗂𝗇𝗀 𝗆𝖺𝗋𝗄𝖾𝗍. Enclosurre has completed more than 50 lakh sqft of Architectural Designing and more than 100 sites of Interiors varies from Hospitality to School to Auditorium to Residential and Commercial projects. 𝖳𝗁𝖾 𝗌𝗍𝗎𝖽𝗂𝗈 𝖽𝖾𝖽𝗂𝖼𝖺𝗍𝖾𝖽 𝗍𝗈 𝗆𝖺𝗄𝗂𝗇𝗀 𝖼𝗈𝗇𝗍𝖾𝗆𝗉𝗈𝗋𝖺𝗋𝗒 𝖺𝗇𝖽 𝖾𝗅𝖾𝗀𝖺𝗇𝗍 𝖽𝖾𝗌𝗂𝗀𝗇𝗌 𝗍𝗁𝖺𝗍 𝖺𝗋𝖾 𝖿𝗎𝗇𝖼𝗍𝗂𝗈𝗇𝖺𝗅 𝗐𝗂𝗍𝗁 𝗍𝗂𝗆𝖾𝗅𝖾𝗌𝗌 𝖽𝖾𝗍𝖺𝗂𝗅𝗌 𝖺𝗅𝗌𝗈 𝖿𝗎𝗌𝖾𝗌 𝗅𝗎𝗑𝖾 𝗍𝗈 𝗈𝗋𝗀𝖺𝗇𝗂𝖼 𝖺𝖼𝖼𝖾𝗇𝗍𝗌. 𝖳𝗁𝖾𝗒 𝖺𝗌𝗌𝗎𝗆𝖾 𝗍𝗁𝖺𝗍 𝗍𝗁𝖾 𝖼𝗅𝗂𝖾𝗇𝗍'𝗌 𝗋𝖾𝗊𝗎𝗂𝗋𝖾𝗆𝖾𝗇𝗍𝗌 𝗌𝗁𝗈𝗎𝗅𝖽 𝖻𝖾 𝖿𝗎𝗅𝖿𝗂𝗅𝗅𝖾𝖽 𝗂𝗇 𝗍𝗁𝖾 𝖻𝖾𝗌𝗍 𝗉𝗈𝗌𝗌𝗂𝖻𝗅𝖾 𝖺𝗇𝖽 𝖼𝗋𝖾𝖺𝗍𝗂𝗏𝖾 𝗐𝖺𝗒 𝖻𝗒 𝗋𝖾𝖿𝗅𝖾𝖼𝗍𝗂𝗇𝗀 𝗍𝗁𝖾 𝗈𝖼𝖼𝗎𝗉𝖺𝗇𝗍'𝗌 𝗅𝗂𝖿𝖾𝗌𝗍𝗒𝗅𝖾. 𝖶𝖾 𝖻𝖾𝗅𝗂𝖾𝗏𝖾 𝗂𝗇 𝗉𝖾𝗋𝖿𝗈𝗋𝗆𝗂𝗇𝗀 𝖻𝗒 𝗐𝗈𝗋𝗄𝗂𝗇𝗀 𝗂𝗇 𝖻𝗋𝖾𝗏𝗂𝗍𝗒 𝗐𝗂𝗍𝗁 𝗉𝖾𝗋𝖼𝗂𝗉𝗂𝖾𝗇𝖼𝖾, 𝖻𝗎𝗍 𝖺𝗅𝗌𝗈 𝗋𝖾𝖺𝗅𝗂𝗓𝖾 𝗍𝗁𝖺𝗍 𝗍𝗁𝖾 𝗌𝗉𝖺𝖼𝖾𝗌 𝗌𝗁𝗈𝗎𝗅𝖽 𝗇𝗈𝗍 𝗈𝗇𝗅𝗒 𝗅𝗈𝗈𝗄 𝗀𝗈𝗈𝖽 𝖻𝗎𝗍 𝖺𝗅𝗌𝗈 𝗐𝗈𝗋𝗄 𝗐𝗂𝗍𝗁 𝖿𝗎𝗇𝖼𝗍𝗂𝗈𝗇𝖺𝗅𝗂𝗍𝗒 𝖺𝗇𝖽 𝖼𝗈𝗇𝗍𝖾𝗑𝗍, 𝖾𝗑𝗉𝗅𝖺𝗂𝗇𝗂𝗇𝗀 𝗍𝗁𝖾 𝗅𝖾𝖺𝖽 𝖽𝖾𝗌𝗂𝗀𝗇𝖾𝗋𝗌.