Dhyana Pura Seminyak Resort: A Beautifully Artistic Structure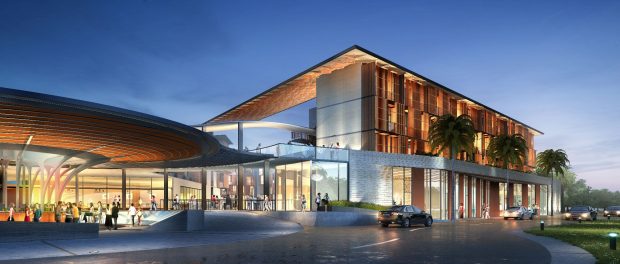 A magical leisure destination in Bali, the Dhyana Pura Seminyak Resort creates a luxurious environment where every convenience and access to amenities is presented in a beautifully artistic structure.
Nestled in a grove of coconut trees, the Resort blends nature and structure for a completely enchanting effect and impact. The experience begins at the entry point, from where the resort extends out like a fan, opening up to allow a light and airy experience of the complex. Across 3 acres and within five stories, 280 rooms provide guests with finely detailed luxury with elegant spatial balance. Water runs as a connecting thread between and through the buildings. Rooms at poolside allow guests to dive directly into beautifully sculpted and pristine waterways.
An important feature of the Resort are the bar areas, at poolside and on the rooftop. These spaces, the social hearts of the Resort, are encompassed by the most picturesque vistas, and feature details that provide the ideal setting to enjoy refreshment and inspiring views of the legendary environs of Bali.
Other images can be seen in the gallery down below

About Architect
YEN ONG
Founding Partner
5G Studio Collaborative
Yen Ong advances the architectural practice at 5G Studio Collaborative, a responsibility he fulfills as the principal architect overseeing the entirety of 5G's widely published, award-winning portfolio covering projects in the United States, China, Vietnam, and Indonesia.
One of the founding partners, Yen codified the firm's operational methodology, establishing protocols ranging from the definition of design content to the management of fluid collaboration and communication among project characters.
Yen directs 5G's architectural research and defines the design narratives and frameworks for signature projects. Leading a practice culture that promotes curiosity, celebrates diversity, and empowers personal autonomy, Yen enables the discovery and the application of the extraordinary in project conditions.
Born in Jakarta, Yen's design perspective is interculturally informed through his studies in Indonesia, Singapore, and Italy prior to earning his Bachelor of Architecture degree from Kansas State University in 1997. Since then, he has been honored as a 2012 ENR TX/LA Top 20 Under 40, a 2016 Dallas Business Journal's Minority Business Leader, and the opening keynote speaker to the 2016 AIA Central States Conference. Yen has twice led 5G, in 2017 and 2018, to be ranked 31st in the Design category among the Top 50 US Firms in the ARCHITECT 50 program run by the official publication of the American Institute of Architects.
https://www.facebook.com/5GstudioCollaborative/
https://www.instagram.com/5g_studio_collaborative/
https://twitter.com/5gstudio?lang=en