ARCH:ID 2020 – PIONIR KONFERENSI DAN PAMERAN ARSITEKTUR DI INDONESIA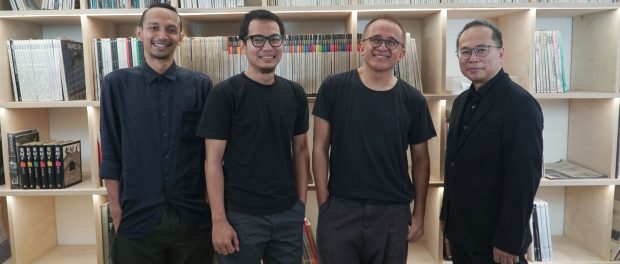 Mengangkat tema Let's Talk! "Mari Bicara", ARCH:ID (Indonesia Architecture Conference & Exhibition) akan diselenggarakan pertama kalinya pada 27-29 Februari 2020 di Indonesia Convention Exhibition (ICE), BSD City, Tangerang. Kegiatan ini merupakan hasil kemitraan strategis antara Ikatan Arsitek Indonesia (IAI) dan PT Citra Inovasi Strategi (CIS). Kegiatan yang akan terbangun di ARCH:ID akan meliputi Konferensi & Pameran yang akan menjadi wadah dialog berkelanjutan antara Arsitek dan para pelaku industri konstruksi di Indonesia.
Kegiatan konferensi akan menghadirkan deretan pembicara internasional dan lokal yang memiliki sudut padang dan perspektif desain bangunan yang berbeda dan akan membahas tentang isu-isu terkini di industri arsitekur. Deretan pembicara tersebut antara lain, Liu Yichun (China), Christopher Lee (UK), Manuel Cervantes (Mexico), Aaron Robert (Australia), Farshad Mehdizadeh (Iran), Budiman Hendropurnomo (Indonesia), dan Ary Indra (Indonesia) dan pembicara lainnya dari Eropa dan Asia.
Wiyoga Nurdiansyah, selaku kurator ARCH:ID mengatakan, "Sudah saatnya Indonesia memiliki konferensi dan pameran arsitektur dengan sudut pandang yang berbeda, yang lebih arsitektural dan fokus secara desain. Menjadi kesempatan bagi para exhibitor untuk menampilkan produk  terbaiknya bagi para pelaku industri khususnya  arsitek".
Kegiatan konferensi menargetkan lebih dari 600 delegasi yang terdiri dari anggota IAI di seluruh provinsi di Indonesia, praktisi arsitek dan professional. Konferensi akan berlangsung pada 28-29 Februari 2020 sedangkan untuk kegiatan exhibition berlangsung pada 27-29 Februari 2020 dengan menargetkan 15.000 visitor yang terdiri dari professional dan trade visitor.
Pameran ARCH:ID akan menyuguhkan Feature Exhibition yang ditampilkan secara tematik dan dikurasi oleh Andra Matin, Danny Wicaksono and Wiyoga Nurdiansyah. Feature Exhibition yang rencananya akan ditampilkan antara lain Re-Framing Louis Khan, Aga Khan Award 2019, Architecture Student Exhibition, Indonesia Architect Creation, dan Architecture Book Translation.
Untuk mendapatkan informasi tentang ARCH:ID, silahkan menghubungi Tim PT. CIS Exhibition di 021-83796833 atau 0812-94292503 dan email ke info@arch.id atau info terbaru mengenai pameran ARCH:ID, silahkan klik ke http://arch.id/
Tentang ARCH:ID
ARCH:ID adalah kerjasama sinergis antara IAI dan PT CIS dalam mebentuk sebuah kegiatan Arsitektur dalam 1 paket yaitu Konferensi Arsitekur se Indonesia & Pameran Business to Business (B2B) yang diselenggarakan dengan debut pertama tahun 2020.
Tentang IAI (Ikatan Arsitek Indonesia)
IAI didirikan secara resmi pada tanggal 17 September 1959 di Bandung. IAI telah beranggotakan lebih dari 11.000 arsitek yang terdaftar melalui 27 kepengurusan daerah dan 2 kepengurusan cabang yang tersebar di seluruh Indonesia. IAI aktif dalam kegiatan internasional melalui keanggotaannya di ARCASIA (Architects Regional Council of Asia) sejak tahun 1972 dan di UIA (Union Internationale des Architectes) sejak tahun 1974, serta AAPH (Asean Association Planning and Housing) di mana IAI merupakan salah satu pendirinya.Di dalam negeri pun selain bermitra dengan pemerintah, IAI tetap aktif bergaul dengan asosiasi profesi lain, seperti melalui keanggotaan dalam Lembaga Pegembangan Jasa Konstruksi dan Forum Asosiasi Profesi Jasa Konstruksi.
Tentang PT Citra Inovasi Strategi Exhibition, Penyelenggara HOMEDEC Indonesia
PT Citra Inovasi Strategi Exhibition didirikan untuk mewujudkan tujuan strategis klien serta mengadakan pameran yang inovatif. PT CIS Exihibition memiliki kompetensi dan pengetahuan untuk memahami dan memenuhi tujuan klien, serta di saat yang sama, mempelajari praktik terbaik di industri terkait untuk memberikan pameran yang berkualitas serta berstandar internasional guna memaksimalkan investasi klien. Tim ini juga didukung oleh C.I.S Network Sdn Bhd selaku partner kami, penyelenggara pameran di Malaysia dengan pengalaman lebih dari 20 tahun dan ahli dalam pameran yang inovatif.
Kontak Media
Selvia Megasari
PR & Media Exhibition
Penyelenggara ARCH:ID
Telp: +6283878162628
Email: mega.cisexhibition@gmail.com