ARCH:ID Returns with 4th Edition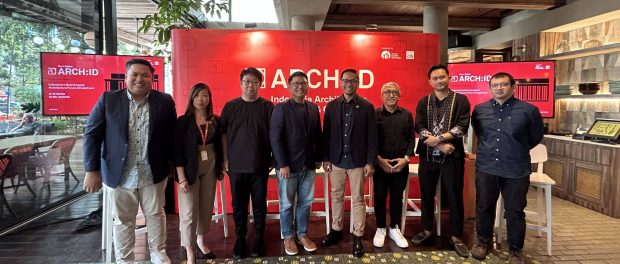 The Most Awaited Architecture Industry Forum & Exhibition in Indonesia
Jakarta, August 15, 2023 – ARCH:ID, Indonesia's Most Awaited Architecture Forum & Trade Event, will be held again on February 22-25, 2024 at ICE BSD City, Tangerang. As a continuity from the previous implementation, the annual activity initiated by the Indonesian Institute of Architects (IAI) in collaboration with PT CIS Exhibition, will again involve three curators, namely Ar. Yacobus Gatot S Surarjo, IAI, Ar. Nelly L. Daniel, IAI, and Ar. I Ketut Dirgantara, IAI. The curator team this time will carry the theme Placemaking with Tolerance as the main sub-theme.
The Curators of ARCH:ID 2024 stated, "Based on the understanding that the placemaking movement has gained significant popularity in the last two decades in various cities around the world, we invite stakeholders, including Architects, City Planners, Government Agencies, as well as manufacturers/suppliers of architectural products and building materials, including environmentally friendly and sustainable products/technologies, to participate and discuss the design of inclusive public spaces. By creating a conducive environment, placemaking is expected to encourage the development of new businesses, improve the quality of life of residents, and promote a healthier and more sustainable environment.
"ARCH:ID as an international scale event strives to always provide many continuous inputs for the development of the new capital, Nusantara, by also becoming a forum for cross-disciplinary discussions by various professional practitioners, academics, and the construction industry, both on a national and international scale. The discussion is also expected to open up many opportunities for collaboration between various actors in the construction world for Indonesia's future development. The theme of Tolerance this time will be a common thread in human-based development, as well as the sensitivity of planners and architects in knitting optimal collaboration, along with the development of innovation, technology, and building materials, "said Ar. Firman Herwanto, IAI as Program Director of ARCH:ID 2024.
At the launching of ARCH:ID 2024, Sibarani Sofian as Chairman of the Indonesian Urban Design Experts Association (IARKI) was also present. He stated, "In order to create a more conducive urban environment, cross-professional collaboration is a must. ARCH:ID is a forum and provides opportunities for professionals from various fields to collaborate, discuss current issues, and share knowledge to encourage better national development.
ARCH:ID Programs 2024
ARCH:ID not only presents conferences and exhibitions but is also filled with various interesting content, ranging from Talk Series, Tuju-Tuju Chat, BIM Adoption, Architectural Installation, Young Architects' Showcase, Structural Craftsmanship Architecture Competition, Awards and so on supported by various experts and industry players to share their knowledge.
ARCH:ID 2024 International Conference
Urban Forum & Architecture Forum
This program is designed as a forum for discussion and synergy between stakeholders such as architects, government agencies, professional associations, and other stakeholders in the architecture and building industry. This International Conference activity targets to be attended by 500 participants.
In the 4th edition of ARCH:ID, it is expected that more than 200 brands will participate and be attended by 17,000 visitors consisting of architects, developers, contractors, interior designers, government/agencies, academics, and other professionals and trade visitors.
ARCH:ID invites manufacturers/suppliers/sponsors who offer products and services such as Adhesives &; Sealants, Advance Materials, Alarm & Automation Systems, Architecture and Interior Design, Retrofitting Specialists, Electrical & Electronic Technologies & Solutions, Bath & Sanitary ware, Building Hardware Products & Materials, Building Technology: BIM/CAD, Carpet, Laminate, Flooring, Decorative Finishes/Paints/Coating, Drainage, Exterior Architectural Finishes, Smart Automation, Insulation, Walls, Windows, Ceiling, Door & Glass Materials including environmentally friendly and sustainable products related to architecture and buildings to participate in enlivening ARCH:ID 2024.
For more information about ARCH:ID, please contact:
CIS Exhibition
Normalina Adinda
021-83796833 or 0812-19110731
dinda.cisexhibition@gmail.com, info@arch.id
http://arch.id/
About ARCH:ID
ARCH:ID is an annual activity initiated by the Indonesian Institute of Architects (IAI) in collaboration with PT CIS Exhibition as a forum for continuous dialogue between architects and construction industry players in Indonesia. The ARCH:ID activity is a forum for placemakers to meet, establish a network of relationships, and a space where Indonesian architectural stakeholders from upstream to downstream meet and collaborate to jointly build the Indonesian architectural industry.
About the Indonesian Institute of Architects (IAI)
IAI was officially established on September 17, 1959 in Bandung. Now at the age of 61, IAI has more than 20,500 registered architects through 34 provincial managements, 1 representative management and 4 regional administrations spread throughout Indonesia, with the youngest provincial management in Maluku which was declared on August 19, 2017. IAI is active in international activities through its membership in ARCASIA (Architects Regional Council of Asia) since 1972 and in UIA (Union Internationale des Architectes) since 1974, as well as AAPH (ASEAN Association Planning and Housing) of which IAI is one of the founders. Since the enactment of Law No.6/2017 on Architects, IAI is the only Professional Organization of Architects recognized by the State.
About PT Citra Inovasi Strategy Exhibition
PT Citra Inovasi Strategy Exhibition was established to realize clients' strategic goals as well as hold innovative exhibitions. PT CIS Exihibition has the competence and knowledge to understand and meet client objectives, and at the same time, learn best practices in related industries to provide quality exhibitions and international standards to maximize client investment. The team is also supported by C.I.S Network Sdn Bhd as our partner, an exhibition organizer in Malaysia with more than 20 years of experience and experts in innovative exhibitions.